Is Your Company the Most Community Minded in America? Get Recognized by The Civic 50!
The Civic 50 at Points of Light is searching for corporate trailblazers that are improving communities and driving social impact. Is your company engaged in the communities where you do business? Are your purpose-driven employees volunteering? Are your brand values reflecting social commitment? Is your philanthropy aligned with your corporate culture?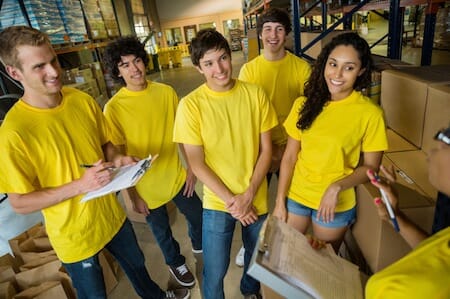 The Civic 50 recognizes these and other best practices each year and it all begins with a short survey.Interested companies can get started today at www.civic50.org. This year's survey will close on March 1, 2016.
Winning Civic 50 companies are determined through a quantitative survey that benchmarks strategic philanthropy, employee engagement, business integration of community programs and measurement of impact.
Why Invest Your Time in The Civic 50?
Gain Recognition for Your Corporate Commitment to Community
The Civic 50 is the only award that recognizes corporate community-mindedness. Earning a spot on The Civic 50 is a meaningful way to be recognized for what you do best and join the ranks of these companies. This year's The Civic 50 winners will be recognized with a presentation and workshop at the 2016 Points of Light Conference on Volunteering and Service in Detroit, June 27-29, highlighted in our popular report of best practices and promoted through the webinars, press and social media throughout the year. Winners also earn opportunities to serve as speakers during global webinars, meetings, workshops and more.
Receive a Benchmark Scorecard When You Complete the Free Survey
The Civic 50 offers much more than a recognition platform. Every company that completes the survey, powered by True Impact, will receive a benchmark report for this year's participants and the opportunity for a deeper review of your results. Our valuable benchmarking resource has been described as a roadmap for maximizing community engagement programs and initiatives for social impact and business value. Completing The Civic 50 survey is a simple way to help you translate good intentions into sound business practices for years to come.
How to Get Started
Participation in The Civic 50 survey is free and open to companies with revenue of $1 billion or more. Applications will be accepted through March 1. You can learn more about The Civic 50 and find the survey at www.Civic50.org.
Find resources and links to best practices here. Send your questions to

[email protected]

.
What Past Winners Say
Adobe – "Being on The Civic 50 validates the importance of being involved in our local communities, a core value that is embraced by Adobe employees around the world. The impact that our time, talent and donations make where we live and work is felt by the company in many ways" – Michelle Crozier Yates, director, corporate responsibility, Adobe, and executive director, Adobe Foundation
CenterPoint Energy – "CenterPoint Energy is honored to be named to The Civic 50 list. We are proud of our community involvement. Our corporate citizenship program reflects our strategy to operate and grow our business while serving our customers and communities, mobilizes employees to create positive change and builds bonds with our customers." – Scott Prochazka, president and CEO, CenterPoint Energy
ConAgra Foods – "ConAgra Foods is thrilled and honored to be recognized by The Civic 50 as one of most community-minded companies in the country. Supporting the communities in which we live and work is one of the key planks of our citizenship platform and this recognition is an important measure of how we are delivering on our ongoing commitment to being a good corporate citizen." – Chris Kircher, vice president, corporate affairs, and president, ConAgra Foods Foundation
Share this post