This Teen's Life Changed When a Volunteer Financial Coach Helped Him Get Smarter About Money
This post is by Nelly Kucher, an AmeriCorps VISTA member serving through the Financial Opportunity Corps program at the nonprofit Asian Americans for Equality in New York.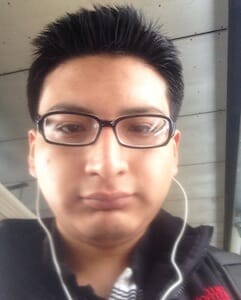 Erik Murudumbay
Erik Murudumbay didn't need a lecture. He needed help.
The 19-year-old college freshman hoped to change his money habits, and he wanted advice while still maintaining control.
"The idea of having someone in my life who wouldn't force me to take specific action or tell me what to do, but would coach and hold me accountable sounded appealing to me," Murudumbay said.
That's what he found with the Financial Opportunity Corps. Through the program, he was paired with a volunteer financial coach, Manni Lajeunesse, who prompted him to think deeply about how he was spending his money and whether that spending was making him happy.
Murudumbay told Lajeunesse that most of the money he spent each month went toward video games – typically $30 on game app purchases and $60 on a new video game.
"I realized that my overspending stemmed from the fact that I had a lot of free time, and was spending two to four hours a day playing video games, which ultimately was sucking up all my money and was not making me happy," said Murudumbay, who receives his coaching through New York's Asian Americans for Equality, one of the nonprofits that hosts the Financial Opportunity Corps program.
The Financial Opportunity Corps, a partnership between Bank of America, the Corporation for National and Community Service and Points of Light, recruits and trains volunteers as financial coaches who then help people from low- and moderate-income households achieve financial stability.
Together, Murudumbay and Lajeunesse brainstormed creative ways he could use his time. Murudumbay is now taking salsa classes, which cost $30 a month, and purchased hand weights, which cost $7 to $10 each. The weights were an especially smart purchase, because they have long-term use, as opposed to one-time-use game app purchases.
Murudumbay has also been putting in extra time at the library to do homework and help his younger sister with her school work. "She has been enjoying completing projects more, and loves that I'm spending time with her," he said.
He cut his game-playing time to less than an hour. He spent $40 last month, down from an average of $90 a month. Because of this change, he is spending more time living his life and improving in school and work.Now that he is in control of his spending and other aspects of his life, he can start thinking more about the future and eventually investing his money.
Putting care and thought into spending has allowed him to focus on putting money into his savings account. Although Murudumbay had a savings account before he started working with a financial coach, he would withdraw from it frequently. Now he is depositing $100 to $200 each month and isn't touching the balance.
"Before financial coaching, I would take a few steps forward and then go back to my old habits quickly, but now my mentality has changed," Murudumbay said. "When I set a goal, I can keep going until I reach it. I feel like a different person."
For more about the Financial Opportunity Corps, visit www.pointsoflight.org/financial-coaching.
Share this post