Join Us in Honoring Military Children Through Volunteer Service
In April, millions of Americans are celebrating the Month of the Military Child. To support the volunteer work of our youth and military, Points of Light is teaming up with the Travis Manion Foundation to serve communities with school volunteer projects you can join in New York, Washington, D.C., and Los Angeles.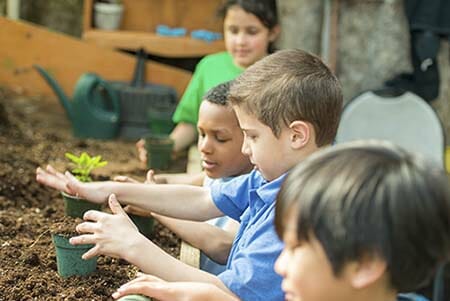 Service projects will include planting flowers to beautify schools.
Each service project will begin with a presentation about Character Does Matter, a Travis Manion Foundation program that empowers veterans to connect with youth in their communities and inspire them with stories of our nation's fallen heroes. AmeriCorps members serving with Corps 18 and the Veteran Leader Corps – programs managed by Points of Light – will lead the service activities.
The service projects, aimed at beautifying the schools, will include organizing school resource rooms, planting flowers, painting and more.
If you're in New York, D.C. or Los Angeles, sign up and join us:
New York
April 25, 10 a.m. to 1:30 p.m., MS 582K – The Upper Academy
April 25, 10 a.m. to 1:30 p.m., PS 18 X – John Peter Zenger School
Washington, D.C.
April 25, 9 a.m. to 1:30 p.m., Johnson Middle School
May 2, 9 a.m. to 1:30 p.m., Hart Middle School
Los Angeles
May 2, 8 a.m. to 1:30 p.m., Manual Arts High School
Share this post