Here's What a Boy Did When He Found Out Kids Were Going Hungry in His Affluent Community
Living in one of the country's most affluent areas – Orange County, California – Alex Triestman was shocked when he learned in elementary school about the plight of one of his friends. That child was struggling in school, in part because he did not have enough food to eat.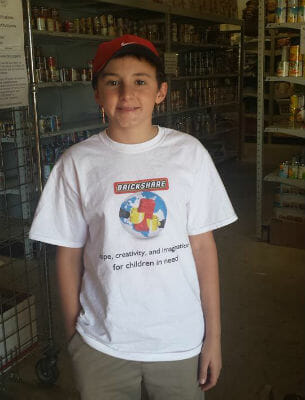 Alex Triestman
"It's ridiculous that we have kids who are hungry," said Alex, now 13. "The U.S. has enough resources to feed citizens, but we are not."
Last Saturday, Alex led a student-run nonprofit fair at Don Juan Avila Middle School in Aliso Viejo, California, where he is a student. BASH, which stands for Broncos Annually Stop Hunger/Homelessness (the bronco is the school mascot), hosted an interactive day of projects to teach students how they can help combat hunger and homelessness.
The fair was part of Make Your Mark on Hunger, a spring campaign run by generationOn that challenges kids and teens to address child hunger through meaningful, hands-on service in their communities. For each youth engaged in service, the ConAgra Foods Foundation will donate the monetary equivalent of one meal to the nonprofit Feeding America, up to 20,000 meals.
As part of the BASH fair, students made birthday cards, toys, party favors and bookmarks for programs that serve homeless children and donated food to a food bank. The event included music and food trucks, which committed to donating 20 percent of sales to the participating charities.
Alex launched BASH with support from fellow members of the Peer Assistance Leadership club, which includes about 40 fellow students from his school, in the seventh and eighth grades.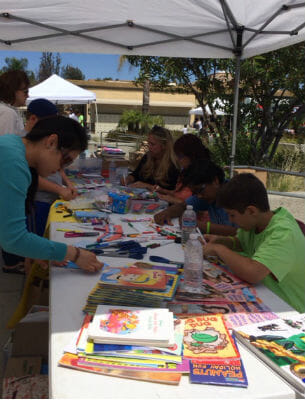 Volunteers came out to the BASH fair to make birthday cards, toys, party favors and bookmarks for homeless children.
He and his club members organized the fair, in part, to raise awareness of the roughly 30,000 people living with homelessness and hunger in Orange County.
Alex, who has been volunteering and heading up projects since elementary school, has lead book drives for military families, food pantry collections and fundraisers for pediatric cancer patients.
He was first moved to start fighting hunger when he visited a food bank near his home at age 6.
"I saw that kids were not going to get my favorite food of mac-n-cheese," he said. "This made me realize the problem was close to home."
His mom, Joanie Triestman, describes Alex as "an old soul" since preschool. "He's always thinking of others and thinking about the problems in society."
Alex believes the key to fixing the hunger problem in a place of plenty requires raising awareness.
"You would think this problem wouldn't exist here, but it does," Alex said. "My project will make a difference not only for kids but for adults to wake up to the reality of what goes on even in our own school district where there are 3,000 homeless students."
Alex's message to adults and kids alike: "Think of others besides yourself. Everyone can make a difference."
Share this post