A Brutal Lesson Leads to a Strong Sense of Purpose
This post is by Rachelle Duroseau, who will soon begin her second term as an AmeriCorps VISTA member with Children's Home Society of Florida. She was recently awarded Volunteer Florida's Champion of Service award for her VISTA work.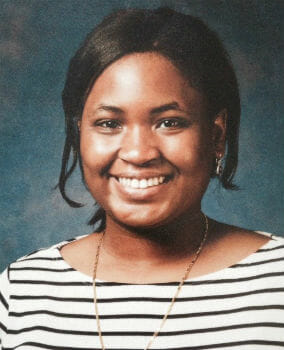 Rachelle Duroseau
Growing up, it didn't take long for me to learn that I felt most fulfilled when giving my time to others.
I first learned the true meaning of empathy and saw my life in a greater context in high school. I took an elective course in hospice (The Harley Hospice Corps) that taught me how to take care of people at the peak of their vulnerability right before death.
I remember one patient in particular whom I bonded with. In only a few short weeks, I watched her physically and emotionally deteriorate beyond recognition. It was such a surreal experience for me.
It was also a brutal lesson: Life's miseries don't discriminate. None of us are safe from them, and all we can do is deeply cherish and respect one another while we can.
This newfound sense of civic responsibility was heightened when I studied sociology in college. I focused on exploring the areas of poverty and social inequality. During school, I volunteered with several organizations, including The House of Mercy, a homeless shelter in my hometown of Rochester, New York.
I became so enthralled with that community and felt so much joy building relationships with its residents and staff. But, volunteering there also made me sad.
The most painful to see were those newly seeking refuge in the shelter as they had run out of options, yet were inconsolable that this was what their lives had resorted to. It was hard not to feel the powerlessness and desolation that they experienced.
By the time I graduated college, I was frustrated. I didn't feel like my direct-service work did more than put a Band-Aid over a festering wound. I was eager to start applying my skills to help create effective change, but I wasn't ready to jump into a career.
I needed to find an opportunity that would let me build upon what I knew while simultaneously giving me the confidence to safely test my personal boundaries to see what I was capable of.
I had learned about the AmeriCorps VISTA program while working in my college's Center for Civic Engagement. The VISTA program through Children's Home Society of Florida stood out to me and I applied.
Children's Home Society of Florida is the state's largest, private nonprofit serving children and families. With 15 divisions and over 90 offices, it has programs in all 67 Florida counties and works tirelessly to provide healing and protection to abused children, while working to equip parents and guardians with the necessary tools to strengthen and rebuild their families.
The majority of my time is spent at Joshua House, a residential facility for abused, abandoned and neglected children, where I handle volunteer recruitment, coordinating activities and securing in-kind donations.
Initially, I had no direct experience with any of those roles. Now, everything comes so naturally. I love giving tours and making community presentations, and I cherish all the community partnerships I'm building for my organization.
Most important, I love that the work I am doing is sustainable, not temporary. In May, I will begin my second year with Children's Home Society of Florida, and I look forward to the new adventures that lie ahead.
If I were to give any advice to new VISTAs it would be this: Trust in yourself, be patient, don't be afraid to experiment and don't be afraid to make mistakes. But most importantly, revel in every little victory!
This post originally appeared on the AmeriCorps Alums blog.
Share this post