The Power of People to Rewrite a Narrative (In Just One Lifetime)
Today, Dec. 5, we celebrate International Volunteer Day, and this year's theme is "Volunteer for an Inclusive Future." Just a few days ago, on Dec. 1, millions of people recognized World AIDS Day. This year's theme was "Ending the HIV/AIDS Epidemic: Community by Community." Both days offer a time to pause and reflect on the world as it is, and to envision what it can be.
I'll take a moment to reflect on and envision the bold aspiration to end the HIV/AIDS epidemic, community by community, and share a personal story. In the late 1980s as a young civil rights lawyer, I worked with a lovely gentleman who eventually died from AIDS. He was my boss and I admired him. He was a courageous openly gay male, wicked smart with a wry sense of humor, passionate about our work, and compassionate to all.
In the '80s and early '90s, HIV was a death sentence. If you knew someone with HIV, you dreaded its progression to AIDS, and felt helpless as you watched them become ill and lose their sense of self. After my boss's passing, a group of us channeled our energy and love for him by making a quilt to celebrate his life. Our quilt became a panel in "The Names Project," which at the time was a way for communities experiencing loss to rally.
What started as a way for friends and families to remember the names of their loved ones who died from AIDS turned into a massive quilt, displayed on the National Mall as a tangible symbol of the human toll of the epidemic. It grew to become a 54-ton tapestry representing almost 100,000 people, and has been deemed an American treasure. More than three decades later, the quilt is still displayed across country as a reminder of the immense impact of AIDS in America, but also as a testament to what can be accomplished when people use their voices and turn their collective effort toward change.
While many people felt hopeless, some were fearless and committed to reverse the inevitable and imminent death trend. It seemed like a tall order. But 40 years later, great progress has been made. Think about it: In just one lifetime, HIV went from a ravaging global epidemic – a guaranteed death sentence with stigma and fear – to a manageable condition that millions of people are living with today.
This happened because, yes, science and medicine made brilliant advances – but also because, globally, people stood up for the ones they loved and a cause they cared about. People pushed for research, for awareness and for education about the condition, both to help prevent its spread and to help the public understand it. Ordinary individuals determined to create change worked tirelessly to make their voices heard.
Today, the scientific community worldwide continues the fight against AIDS. Communities are using the lessons learned from around the world to drive awareness about HIV/AIDS and to fight its stigma. The efforts of those early changemakers are still working, and their impact is growing. They simply would not be denied. It's the power of people in full force, for sure.
It begs an obvious question: What will you do to help your community? So, on this International Volunteer Day, is there a local cause that piques your interest or a global issue that stirs you? What I know for sure is that in one lifetime, the narrative can change. And you can help rewrite it.
---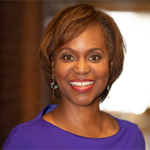 Natalye Paquin was the president and chief executive officer of Points of Light from 2017–2022. She is a visionary and results-oriented leader, with more than 20 years of experience providing strategic, operations and fiscal leadership in the nonprofit and public sectors.
Share this post