A Network of Volunteers Helps Displaced Ukrainian Children See a Zoo for the First Time 
April 6 was a warm, sunny day. A group of displaced Ukrainian children and their families pulled up in front of the Budapest Zoo beneath a cloudless blue sky. They arrived by public bus, accompanied by a special police escort.  
The group spent the day exploring the zoo, seeing all the highlights, from the menagerie of exotic animals to climbing to the top of an amazing "Magic Mountain." It was a day filled with joy in the midst of a time of extraordinary hardship and sorrow. Making it happen took the time, dedication and cooperation of many volunteers and organizations. 
Budapest Methodological Social Centre and Institutions (BMSZKI) is one of the largest social organizations in Hungary and in the Central European region. It has set up accommodation for refugees in two locations, hosting nearly 200 displaced people in total. One location, Gyáli út, has been welcoming mostly Ukrainian families, since late February, at the start of the Russian-Ukrainian conflict. According to capital city officials, about 2,000 refugees had been supported with food and housing by mid-March. 
The BMSZKI's Budapest institutions mainly accommodate Hungarian-speaking Roma families from Transcarpathia and Ukrainian Roma from the Kyiv region. These are typically larger families of anywhere from eight to twenty members. These families tend to be very disadvantaged and cannot travel farther West, so they've remained in Hungary for a longer period. The big question is: What will happen to the people who are staying, who may number in the thousands? By the end of March, 7,700 people had applied for asylum status, and that figure is considered to be a conservative estimate. 
Their situation is dire in many ways. They are not familiar with their surroundings, have never traveled by metro or tram and they do not speak local languages. Families from outside Kyiv tend to speak Ukrainian and Gypsy. Many of the adults cannot read or write. Even those who did not flee directly from the fighting have been traumatized by war, with the lives they've built collapsing overnight accompanied by constant worries about their relatives and homes. 
BMSZKI's facilities are dedicated to the care of unhoused people, which means they are well versed in how to support people in these circumstances. When the crisis in Ukraine first began, BMSZKI had the infrastructure and experience to help those who were displaced in the quickest and most efficient ways. The biggest challenge turned out to be the sudden influx of children, which was beyond what they were prepared to handle, but that didn't stop them from problem-solving on the fly.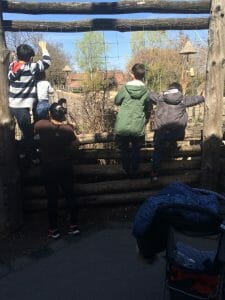 A weekly schedule was quickly developed, in cooperation with several Nongovernmental Organizations. It outlined which organization would host various children's activities, along with when and how.  
Many of the volunteers associated with these organizations were already giving their time to the Budapest Zoo, so it was decided that they would take a group of children, ages six months to 13 years — along with their families — on a field trip. The zoo's philanthropic arm, Foundation for the Budapest Zoo, offered free tickets to the group. 
Next came the challenge of how to get there. The Municipality of Budapest offered to provide a bus. 
Once on site, Erzsi, a zoo volunteer, led the group on a tour of animal exhibits and other exciting highlights. The children loved climbing to the top of the "Magic Mountain," where they could look around, see a beautiful view of Budapest and even slide down the mountainside. It was an unforgettable experience for the children and their parents, most of whom had never been to a zoo before. It turned out to be a glimmer of happiness in the midst of their trials, and the volunteers loved the experience too, receiving payment in the form of thanks and hugs from children and adults alike. 
The group has plans to take the children on more adventures, including an expedition to a nearby airport to watch the planes take off and land. Participants say these activities are an essential part of keeping their enthusiasm going. 
Corporate Volunteer Programme Coordinator Judit Tarcsai of Volutneering Hungary – Center for Social Innovation said, "These trips give us more and more energy." 
Points of Light operates with a network of innovative volunteer-mobilizing organizations who serve more than 177 affiliates across 38 countries around the world. Together we are inspiring, equipping and mobilizing more people to use their time, talent, voice and resources to create positive change in their communities. Learn more about our Global Network.
Share this post