These Kids Are Making Peace – Will Yours?

Kids and teens across the country – more than 23,000 of them so far – are making peace and spreading kindness in creative ways. (See below how your kids can, too!)
Kelli from New York created The World Peace Mural, a public art project that has inspired more than 400 young people to contribute art, photographs and poetry to a stunning display of unity across continents and languages.
Zach from Louisiana raised more than $530 for children being treated for cancer at St. Jude's Hospital by arranging for his peers to pay $2 to wear their favorite hats to school. That money will go toward buying toys for anyone undergoing treatment.
And more than 900 students at a Florida school encouraged parents, grandparents, friends and neighbors to come together during a peace summit to spread peace beyond the walls of their school into their community.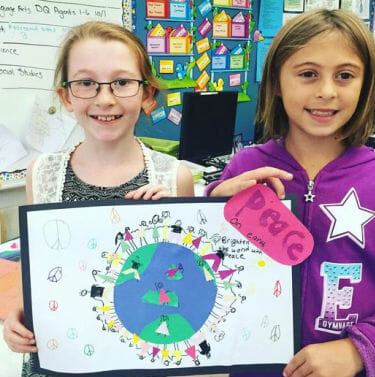 Schoolmates display the poster they made to honor Martin Richard's call for peace.
Their inspiration? An 8-year-old named Martin Richard, the youngest victim killed in the 2013 Boston Marathon bombings. In the days after the bombing, a photo of Martin holding a handmade poster that read, "No more hurting people – Peace" circulated widely online.
Martin was known as a "bridge builder" in his school and someone who believed in fairness, kindness and inclusion. The Martin Richard Bridge Builder campaign, run by generationOn – Points of Light's Youth Service enterprise – encourages kids and teens to spread peace through service projects or simple acts of kindness, honoring Martin's desire to bring people together.
During October – Bulling Prevention Month – the campaign urges educators and parents to create a culture of caring, kindness and compassion in their schools, communities and homes by addressing issues such as bullying, insecurities and community conflict through service.
Whether it's planting a peace garden, making a peace poster or simply inviting someone new to sit at a school lunch table, there are many easy ways kids, teens and families can make a difference.
Students ages 5 -18 can get involved and learn about volunteer projects or share their stories of spreading peace and kindness for a chance to win a $250 grant by visiting www.generationOn.org/peace. The deadline for submissions is Oct. 16, 2015.
Martin's message has inspired thousands of kids and teens across the country and the world to action through kindness and service. Will your kids join them?
Share this post