Thirteen for Thirteen: Reflections on Hands On Manila's 13th Birthday
This post is by Ami Valdemoro, executive director of Hands On Manila. To find a HandsOn Network affiliate near you, visit www.handsonnetwork.org.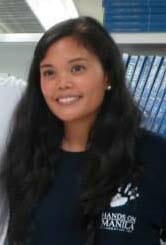 Ami Valdemoro
I joined the Hands On Manila family in April, fresh from a two-year sabbatical in graduate school and full of ideas for how make a meaningful impact in the Philippines, where my family is originally from. I quickly learned just how powerful a small handful of individuals can be when they set their minds and hearts to do good.
People have thought of the Philippines often over the past year, with the devastation wrought by Typhoon Haiyan last November. While the efforts of people from around the world to help the affected communities recover are well-documented, there are many more stories of service and daily acts of kindness, that occur below the radar.
Stories of everyday heroes who work tirelessly to help those in need. Stories of people who – even with limited free time – choose to be a point of light. It is these stories that make Hands On Manila who we are and that give us the energy and spirit to continue to be of service.
In honor of our 13th birthday this month, and the thousands of individuals who have shaped us and helped us grow, here is my list of 13 ways that Hands On Manila works to make our community a better place:
Cultivating curious young minds by mentoring high-achieving middle school students in public schools through our Hands On Schools – Galing Mo Kid! Program
Engaging young professionals in volunteer service to rebuild and prepare classrooms for the school year
Spending quality time and giving care to the elderly at a beautiful shelter in the hills of Tanay, Rizal
Teaching young people who have suffered tremendous hardship or abuse skills to help them get on their feet and make a livelihood for themselves and their families
Beautifying public spaces like the Freedom Islands through urban gardening and coastal cleanups
Developing volunteer leaders through our Sherpa program, named after the guides who patiently and diligently guide trekkers up Mount Everest in the Himalayas
Encouraging individuals with one or two hours of time to volunteer with any of our more than 30 nonprofit partners through our Volunteer Passport program
Reading to street children in a weekly Read-Along hosted with our friends at the Philippine Daily Inquirer, a widely circulated daily newspaper
Bringing the arts to children through mural painting in school classrooms and art classes in children's shelters
Inspiring people to give back even when they are on vacation through our Hands On Volunteer Vacations in Boracay, Mindoro, and other popular holiday destinations
Creating personalized service opportunities for corporate partners who are new to social responsibility or volunteering throughout the year
Bringing together thousands of volunteers in an annual day of service that we like to call Servathon (Our next one is coming up on September 27 – stay tuned. #homservathon2014.)
Sharing our successes, and our challenges, with our friends at other HandsOn Network affiliates in the U.S. and around the world to inspire us to do good better
For more information on Hands On Manila, visit www.handsonmanila.org. To find a HandsOn Network affiliate near you, visit www.handsonnetwork.org.
Share this post