Volunteers Go for the Win at Turner Field
Against the backdrop of America's national pastime, hundreds of volunteers came together to recognize a national treasure: teachers.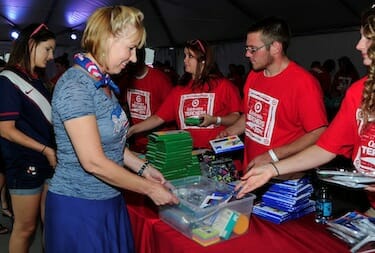 Volunteers help game-goers at Turner Field assemble containers of school supplies for Atlanta teachers.
Before an Atlanta Braves-Philadelphia Phillies baseball game at Turner Field, more than 300 volunteers and game-goers packed 5,000 kits full of school supplies for local teachers. Target team member volunteers stacked tables high with supplies and volunteers visiting Atlanta for Points of Light's Conference on Volunteering and Service filled plastic bins with water bottles, sticky notes, disinfectant wipes, pens, pencils and more – items teachers too often have to buy with their own money.
The June 16 event was part of Target's All-Star Teachers program, in partnership with Major League Baseball, designed to engage Target guests and MLB fans in celebrating the nation's teachers, and Target's involvement in Points of Light's Conference on Volunteering and Service as its Official Excellence in Education sponsor. (See below for the July 31 presentation ceremony.)
Target supplied the products, funding, infrastructure and dozens of team member volunteers. Hands On Atlanta – part of Points of Light's HandsOn Network of 250 volunteer centers – coordinated the service project to distribute the kits to dozens of Atlanta public schools.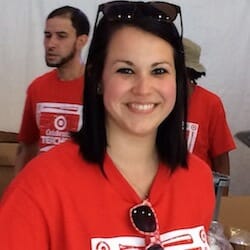 Target team member Jessica Johnson
Across the United States, public school teachers during the 2012-2013 school year spent $1.6 billion of their own money on school supplies and instructional materials, according to the National School Supply and Equipment Association. That's an average of $500 per teacher.
In addition to assembling kits for the classroom, volunteers at the Turner Field event could vote for their favorite All-Star Teacher at an on-site kiosk and, by way of a photo booth, share photos of themselves via social media. Future MLB Hall-of-Famer and former Atlanta Braves pitcher John Smoltz came by for a few photos and to encourage the volunteers.
Jessica Johnson, who has worked at the Target store in Douglasville, Ga., for the past two years, says she appreciates the service opportunities Target provides its team members.
"It makes you feel good to work for a company that cares about things beyond just money, that cares about the community and the people who live there," she said, as she reached for more supplies to stock the line. "That comes across in opportunities to go out and do things like this."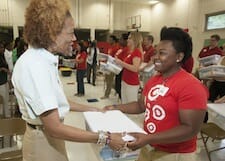 Target volunteers hand out school supplies assembled at the Turner Field service project to Atlanta teachers.
"The Turner Field event, part of the Conference on Volunteering and Service's opening day, reflects our core values at Target," said Reba Dominski, senior director of community relations. "Through raising awareness for teachers and celebrating the impact they have on our children, we are also able to demonstrate our longstanding commitment to service."
"At Target, we believe every child deserves a quality education, regardless of race or socioeconomic status," said Dominski. "Through our partnership with Points of Light, we're able to invest in communities by offering programs that help provide the tools and resources educators need to help students succeed."
Target team members volunteered alongside attendees of the Conference on Volunteering and Service, like Allan Collins. He embraced the chance to participate in a hands-on volunteer experience as part of the Conference, which brought together thousands of leaders from the nonprofit, corporate and civic sectors to celebrate and shape the future of volunteerism.
"Learning about the programmatic side of volunteer engagement is vital," said Collins, director of HandsOn Inland Empire, a volunteer mobilization organization in Rancho Cucamonga, Calif. But Collins said that engaging in a tangible expression of volunteerism is "a powerful way to bring it all together."
On July 31, representatives from Hands On Atlanta and Target presented the kits to Atlanta Public Schools teachers and Superintendent Meria Carstarphen at West Manor Elementary School. Target volunteers then helped teachers prepare their classrooms for open house the following evening and the first day of school, Aug. 4.
"Thanks to the generosity of Target, and literally, the hands of Hands On Atlanta, the 3,000 teachers of Atlanta Public Schools were given additional tools to actively engage and instill hope in our students this year," Carstarphen said. "Target represents the important role of corporate partners in supporting student achievement by connecting the needs of our students and schools with the financial resources and goodwill of the community."
Share this post