Three Things You Can Do to Help During the Ebola Outbreak
This post is by Colleen Clay, senior director of disaster services at Points of Light.
People respond to crisis with action, and as the world faces the first Ebola epidemic and the largest Ebola outbreak in history, that desire to help has mobilized volunteers from around the globe to serve affected communities.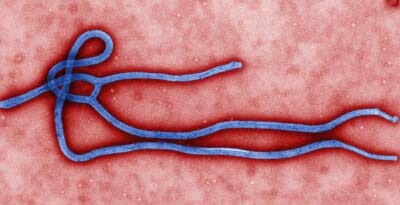 A micrograph of the Ebola virus (Centers for Disease Control and Prevention)
Finding an effective way to help can be difficult when the epidemic and greatest need is in Africa, and you are not a medical professional nor in an affected area. However, you can make a difference in prevention, reduction in suffering and support for responders. Here are three steps you can take to help.
1. Get informed. Deadly epidemics are scary and misinformation can actually make things worse. The U.S. Centers for Disease Control and Prevention has the facts on risk, transmission, diagnosis and treatment, and they have multiple fact sheets for travelers and people and organizations that want to provide factual information to their networks.
Get all the facts here. Share them with friends and family and through your social networks. Click here for a great infographic you can share that communicates the most important basic facts.
2. Take action to prepare your family and household for disaster, including pandemic flu. The U.S. government's pandemic preparedness is focused on health care system preparedness, hospitals and medical providers. But every family should have a family disaster plan and supplies, and should talk together about their family plan.
GoodandReady.org has resources available to help your family learn about and plan for all hazards. The CDC and the U.S. Department of Health and Human Services have produced guides and checklists to help your family and community prepare for flu epidemics. These guides are helpful in thinking through communicating with schools and workplaces, and ensuring you have needed supplies should an outbreak occur in your community. Click here and here for examples.
3. Help support the response to Ebola and other disasters by donating cash, goods and services, and by volunteering. The Center for International Disaster Information has useful information about how to help. Cash is the most useful assistance and CIDI has listings of nongovernmental organizations working specifically on Ebola.
There is great need for medical supplies, particularly personal protective equipment. But general donations are usually best donated to local charities. Alternatively, you could hold a rummage sale, and donate the proceeds to response organizations.
Points of Light partners with the American Red Cross and Save the Children. Both organizations are working to halt the epidemic and provide care to affected communities.
You can take action to stop the epidemic and provide needed resources to affected communities. Get informed, get prepared and share facts and resources to halt the epidemic.
Share this post