What Would You Do in a Disaster? Allstate Shows How Easy it Is to Prepare
Read about how folks in Los Angeles are preparing for disaster. To help your family take action, visit Good & Ready, where you'll learn how to create various disaster plans, build a preparedness kit and more.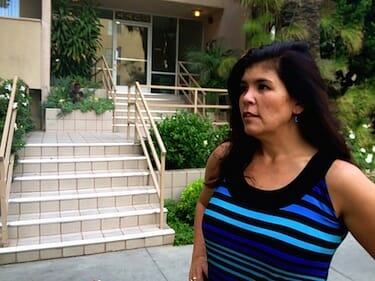 Paula Solano recalls the morning when the walls of her apartment fell apart around her during an earthquake.
Paula Solano was asleep when her walls started violently shaking and loudly crumbling around her. The patio sliding glass doors in her Los Angeles apartment blew out, spraying glass everywhere. She made a run for it, cutting her bare feet on glass shards and breaking a toe as she fled.
"I really thought that, maybe, I was going to die," Solano recalled of that day 20 years ago, when an earthquake jolted the Northridge neighborhood of Los Angeles. "I wish I would have known where to go when the earthquake started. … I was literally caught unaware – out of a dream."
The 1994 Northridge earthquake rated a 6.7 magnitude and left nearly 60 people dead. Thousands of others were left without shelter – including a young Solano, who had just arrived in town to teach, write and act.
Today, Solano makes sure her family is prepared, right down to having slippers next to her children's beds, in case they have to run out in the middle of the night like she did. "You need to have a plan," she said. "I call it a 'clear path to safety.'"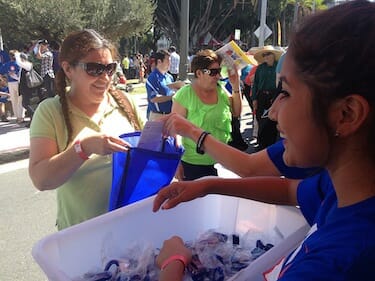 A participant at the Los Angeles tour stop receives a pamphlet for her disaster kit.
That's the mission of the national disaster preparedness tour created by The Allstate Foundation and Points of Light. Among others, stops have included Portland, New York City, Baltimore and Savannah in the East, Baton Rouge, Houston and Indianapolis in the south and Midwest, and Los Angeles.
At the Los Angeles event September 13, dozens of volunteers from Allstate insurance agencies and Volunteer Los Angeles – part of Points of Light's HandsOn Network – lent their time to help people get ready for all types of disasters.
"This is one stop in a 14-city countrywide campaign," said Jan Epstein, senior manager at The Allstate Foundation. "We want to educate people on the perils they face in their particular region of the country; and we want to help them become more prepared for those times of disaster During the tour, Allstate is providing supplies to hands-on build 10,000 kits, but just as importantly, we are educating people as they build their kits and by directing them to online resources"
Folks who attended the annual Dieciseis de Septiembre (Mexican Independence Day) celebration in downtown Los Angeles worked with volunteers to build free disaster starter kits. Inside blue Allstate drawstring satchels, people placed items such as first aid kits, water bottles, emergency checklists, escape plans, battery-free flashlights, whistles and dust masks.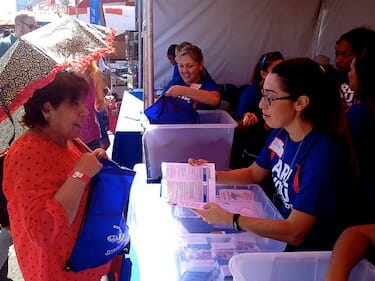 A bilingual volunteer speaks with an event participant in Spanish to explain the importance of being prepared.
Allstate agency owner Beatriz Zaragoza spent the day talking with people at the festival in English and Spanish. "Some of the people don't have anything in place, because they just don't think it could happen," she said. "But you just never know."
The good news is that there was a sprinkling of families who stopped by to add to what they already had at home. "I'm kinda, sort of prepared, but not like this," said Julian Bueno from the Echo Park neighborhood of Los Angeles. "I have a flashlight, I've got bottled water, but not the rest."
Patricia Garza, Allstate Foundation director of strategic philanthropy, said the foundation is focused on demonstrating how easy it can be to set aside critical items.
"Every person, and every family, deserves the chance to realize their hopes and dreams. Poor disaster preparation leads to a needless loss of lives and property," Garza said. "Doing a few simple things, like building an emergency kit or creating an evacuation or communications plan will go a long way to keeping people safe. That's why The Allstate Foundation and local agency owners want to get Americans thinking about preparedness, before a disaster strikes."
Marisela Magaña of La Crescenta, California, attended the Los Angeles event to reinforce what she has been teaching her kids about disaster preparedness. The mother of five has two autistic children who need frequent reminders of what they should do in an emergency. Magaña brought her 12-year-old sons with her – Mark, who is autistic, and Jonathan, who has ADHD and severe asthma.
"Kids with special needs, you have to continuously tell them and remind them and reprogram them so they are prepared for what might happen," Magaña said. "If they weren't prepared, a disaster would get them into a total frenzied panic."
Julian Bueno, from Echo Park, acknowledged the need to be much better prepared after the kit-building activity. He had no idea until the event that he'd need more than a basic starter kit. He only had one emergency bottle of water to share with his son, Christopher, in case of disaster.
"I thought I was prepared, but I guess I wasn't," said Bueno. "I feel more complete now."
Share this post