Through Unique Challenges, GE Volunteers Get Kids Excited About Science, Technology, Engineering and Math
Under the guidance of volunteers, a group of teens from Ghana developed a technological solution to tackle the improper disposal of waste. Their idea – create an app that would teach people how to sort trash and recycle waste.
Across the globe, outside Philadelphia, volunteers demonstrated hands-on projects to elementary school students in the areas of science, technology, engineering and math – fields known collectively as STEM. Most of the activities involved materials the children could get from the grocery store, so they could experiment at home.
The need for STEM career counseling and job readiness training transcends political, geographic and socio-economic barriers, and these hands-on learning experiences provided early exposure of skills needed in STEM-related industries.
The recent activities in Africa and the United States were part of the ongoing GE Global Month of Service, for which GE and Points of Light have come together to support and encourage GE employees to address issues that matter most in their regions.
In Ghana, GE Ghana volunteers engaged 200 students, ages 13 to 17, from 10 schools in a STEM Careers Campaign, in partnership with JA Africa and Points of Light.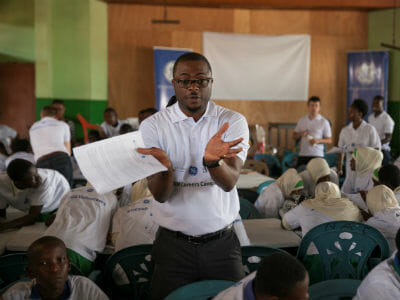 A GE volunteer urges students in Ghana to consider a wide variety of STEM careers.
The project raised student awareness of STEM career opportunities, created opportunities for students to interact through a challenge in a competitive – but safe – environment and also fostered public speaking, team building and problem-solving skills.
During the campaign, volunteers shared their job experiences and guided students in thinking about sustainable solutions to problems in their communities using STEM.
Students were given a STEM challenge to work on in teams and presented their solutions to a panel of judges. Flagstaff House Basic School took home the grand prize for their waste-disposal app idea. Similar STEM events were held in Nigeria and Kenya.
At Valley Elementary School in Bensalem, Pennsylvania, about 30 GE volunteers of the Greater Philadelphia Council hosted a STEM day. The volunteers interacted with 775 students participating in activities such as constructing "Towers of Pasta," making lava lamps, using M&Ms to calculate probability, building paper structures to discover the strength of paper, making paper boats to float and move on water, discovering how a pendulum works in a grandfather clock, making objects on a computer and computer coding.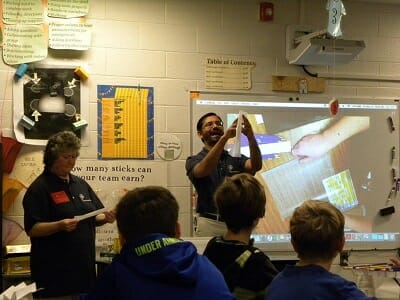 GE volunteers Vidya Sundaresan, center, and Patricia Popowich, left, use paper boats to teach the concepts of buoyancy and surface tension to Pennsylvania elementary school students.
"I enjoy seeing the excitement in the kids when we can teach them something fun and different from their regular curriculum," said volunteer Cayle Hamman, a lead mechanical engineer from GE Water and Process Technologies in Trevose, Pennsylvania. "The one class of first graders almost all either wanted to be a scientist or teacher when asked what they wanted to be when they grow up. That makes the day worth all the effort."
Fellow volunteer Wendy Segal, a specialist in waste water and membrane chemistry from GE Water and Process Technologies added, "It was amazing to see so many faces light up with understanding and excitement during the exercises. The enthusiasm for learning is strong in children, and we definitely sparked some young minds in the direction of science, technology, engineering and math."
Share this post