Using Our Skills to Serve Those Who Served Our Country
This post is by Janaia DeShields, vice president of veteran and military programs at Points of Light.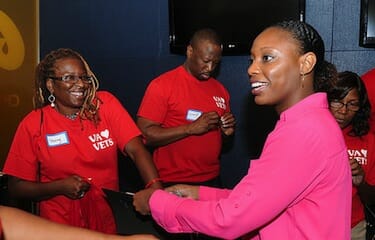 Janaia DeShields, right, works with volunteers at a 9/11 Day of Service event in Washington, D.C.
Veterans Day is not only a day to show your appreciation for those who have served; it's a time to honor them through service.
I had the pleasure of attending the first annual Joining Community Forces Conference where Adjutant Generals – de facto commanders of a state's military forces, their staff and community leaders – convened to discuss how to better serve veterans, service members and military families in their states.
During the discussions, I mentioned how A Billion + Change (a national campaign to mobilize billions of dollars of pro bono and skills-based volunteer service from corporate America) and companies are eager to provide skills-based and pro bono volunteer support to the military community.
The initial response was that of surprise, quickly followed by true appreciation and an eagerness to connect with companies that want to provide direct service to our veteran community.
In the midst of a military drawdown and the increased numbers of veterans transitioning from service, it's more important than ever for companies to reach out to their communities through their philanthropic efforts to fill the gaps in services that nonprofits do not have the capacity or capabilities to fill.
Veterans are not only leaders during wartime but they have a prowess unmatched by many to lead in their communities. The strength of character and professional experiences may be unique to the military culture; but those same attributes can be used as the foundation for building stronger communities. As companies pledge volunteer hours, I encourage them to carve out time to focus on our nation's heroes.
Pro bono services are not only a valuable asset to service members but also to companies. The experience helps employees master their own skills and abilities, using their expertise to make an impact. They get the chance to connect with individuals outside of the normal humdrum of weekly agendas.
Pro bono service presents an opportunity to give back – to make a difference in a capacity that is priceless.
The philanthropic efforts of a corporation both make a positive impact for those who require support and bring a sense of accomplishment to the employees who offer their services.
Veterans are our nation's leaders, heroes, and patriots. Leading the charge to protect and serve them is the first step to our continued growth as a nation.
President Barack Obama said, "Our men and women in uniform have taught us about strength, duty, devotion, resolve – cornerstones of a commitment to protect and defend that has kept our country safe for over 200 years. In war and in peace, their service has been selfless and their accomplishments have been extraordinary."
We can do the same for those heroes. We all can make a difference.
Learn how you can serve veterans through skills-based and pro bono service by visiting the resources section on the Billion + Change website, and stay tuned for a veterans' webinar in mid-December. (A version of this post originally appeared on the Billion + Change website.)
Share this post