Using Their Expertise, GE Volunteers Work to Clean Singapore's Waterways
Singapore's rivers and canals – though relatively clean – contend with litter and illegal disposal of waste, despite measures to curb both. Meanwhile, the invasive pink snail and rapidly multiplying algae destroys the aquatic plants that provide oxygen, food and shelter to fish and other underwater life.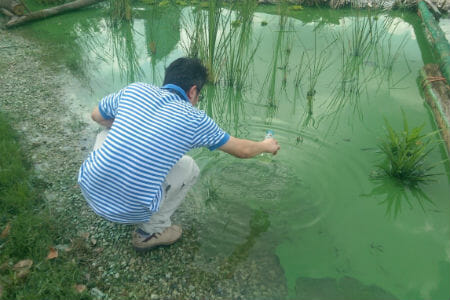 A GE engineer collects a water sample from an algae-filled, man-made pond stemming from the Kallang River in Singapore.
On Dec. 4, during one of a host of volunteer projects happening across the globe as part of the GE Global Month of Service, GE volunteers came together in Singapore to clean area waterways. The event was an extension of recent visits from GE employees volunteering their time and expertise to devise and implement sustainable solutions to treat local pond waters.
Current measures to curb pollution in Singapore's waterways include the installation of vertical gratings at drain outlets and placing floating barriers at strategic locations along the waterways. Despite these efforts, the pollution persists and steadily increases.
During visits in October and November, GE engineers – as volunteers – brainstormed ways to clean a pond the volunteer organization Waterways Watch Society created for an environmental education program.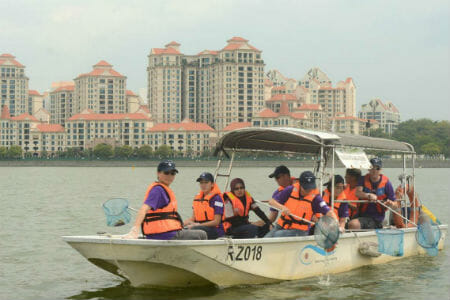 GE volunteers used nets to remove litter and debris from Singapore's Marina Reservoir.
The engineers inspected the site and tested the waters, devising a plan that includes adding a submersible pump, creating more outlets between the pond barrier and the adjoining Kallang River and introducing fish that eat algae and snails.
Opening the Dec. 4 events, Wouter Van Wersch, president and CEO of GE ASEAN; Amy Sheren, executive director of Points of Light Asia; and Eugene Heng, founder and chairman of Waterways Watch Society, released snail- and algae- eating yellow boxfish into the pond, a step toward implementing the GE engineers' plan.
Another group of GE volunteers on hand that day then split into groups under cloudy skies to clean litter from the Marina Reservoir and along the Kallang River, by kayak, bike, boat and on foot.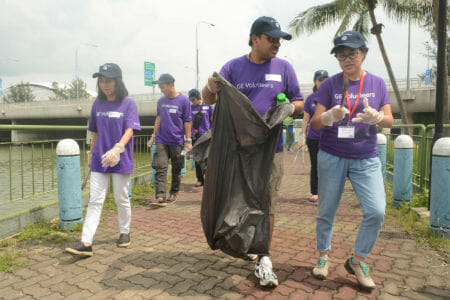 Setting out on foot, GE volunteers picked up litter along the Kallang River in Singapore.
Much of the litter they found was comprised of the usual suspects – plastic bags and bottles. One volunteer who set out on a kayak said he had collected about more than 100 pounds of trash. While Christopher from Indonesia, a volunteer on the bicycle patrol, said of the outing, "It was an eye-opening experience."
Throughout the GE Global Month of Service, which culminated on Dec. 5, International Volunteer Day, GE and Points of Light came together to support and encourage GE employees to address issues that matter most in their regions.
Peter Yang – founder and executive director of Empact, the organization that coordinated the Singapore waterways volunteer projects – said he hopes that having made a difference through their participation, "the volunteers will be inspired to do more."
Share this post