In honor of National Volunteer Week, April 6-12, USA Weekend and Points of Light are recongizing the 2013 Make A Difference Day honorees, who will be celebrated in Washington, D.C., on April 10. Here we tell the story of two West Virginia high school clubs looking out for families who don't have the clothes and food they need.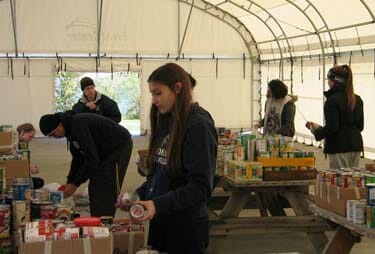 High school students in Weirton, W.Va., sort cans of donated food on Make A Difference Day.
In Weirton, W.Va., where the steel mill used to employ 14,000 but now has only about 1,000 workers, kids go to school in the cold with no socks. They wear clothes that haven't been washed in weeks to save utility costs. The only meal they eat all day is the free lunch at school.
It isn't just a few households down on their luck, either. It is whole neighborhoods: At the largest elementary school, Weirton Heights, almost half of the students live at or below the poverty line.
At the city's two food pantries, the Salvation Army and the Community Bread Basket, the shelves were bare a few short weeks before Thanksgiving last year, while a record 300 families were signed up for holiday baskets.
"At the Salvation Army, they had maybe two stacks of green beans. That was it," says Alisandra Welch, the high school senior who was one of the chief organizers of Weirton's first Make A Difference Day campaign, called Soup, Socks and Smiles: Warm Your Heart, Warm Your Sole.
About 500 volunteers helped in the effort, which included collecting 5,000 pounds of food for the pantries; donating more than 300 pairs of kids' socks, backpacks and other clothing to Weirton Heights Elementary School; and helping a family whose house exploded in a natural-gas accident, killing their teenage daughter.
The project began as the effort of Interact Club members at the city's rival high schools, Weir High and Weirton Madonna. But it caught on community-wide, Welch says, after people learned the depths of hardship many families faced.
"We tied shopping bags to doors in every neighborhood and thought, 'Maybe some people will put in a can or two,'" Welch says. "Well, we would go to porches and find bags and bags of food."
Renee Howard, Weir High's Interact Club adviser, says the project has given the community hope again, after the long years of sadness following the collapse of the former Weirton Steel Corp.
"This is an ongoing thing," Howard says. "Since that day, Make A Difference Day, we decided we were going to do as much as we can for the community, so we've done several different projects."
Check out the other Make A Difference Day honorees at www.makeadifferenceday.com/winners.
Share this post