No College Course Can Teach This
In honor of National Volunteer Week, April 6-12, USA Weekend and Points of Light are recongizing the 2013 Make A Difference Day honorees, who will be celebrated in Washington, D.C., on April 10. Here we tell the story of Arkansas college students uniting as volunteers for the community.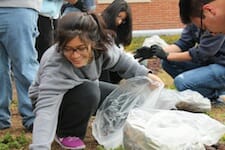 University of Arkansas Students help clean up on Make A Difference Day.
Holly Hilliard is about to graduate from the University of Arkansas with an industrial engineering degree and a commitment to volunteer service.
Hilliard, 21, is the president of her school's Volunteer Action Center, which works with more than 40 nonprofit organizations, schools and parks to develop area service projects. She has been involved with the group since she was a sophomore.
"It's been cool to see it evolve every year," Hilliard says. But on the morning of Make A Difference Day, Oct. 26, as a crowd of volunteers was gathering, Hilliard was struck by the impact she and her classmates were making.
"Everyone gets excited as they get together, and you can see all of the people starting to go out to different projects," Hilliard says. "You don't think about how many people volunteer until you see everyone together to celebrate the day."
Student Daniel Taliaferro McFarland, 21, helped coordinate the school's efforts this time. "Make A Difference Day is an opportunity for students, faculty, staff and other various members of the community to come together and make a monumental impact on northwest Arkansas," he says. "I can honestly say that it was an experience of a lifetime."
A total of 1,326 volunteers worked on projects that ranged from cleaning and stocking the campus food pantry to creating puppets for a local literacy program. Organizers estimated total economic impact at more than $100,000.
"It was great to witness a bigger picture being painted of everyone working together," says student Lyna Noi Ninkham, 21, who served as the donations coordinator. "Definitely a beautiful sight to see."
Each project was led by one of 40 student leaders, which Hilliard hopes has a lasting impact. "Instead of just one day of service, it prepares them with working with a nonprofit," she says. "It gets that connection started in creating those lasting relationships between the volunteers and the agencies."
Hilliard won't be on campus next year but still plans to be involved in Make A Difference Day. "I will look for it wherever I end up moving."
Check out the other Make A Difference Day honorees at www.makeadifferenceday.com/winners.
Share this post