Want to Know What Makes a City a Great Place to Live?
In honor of National Volunteer Week, April 6-12, USA Weekend and Points of Light are recongizing the 2013 Make A Difference Day honorees, who will be celebrated in Washington, D.C., on April 10. Here we tell the story of a Tennessee community that knows how to come together.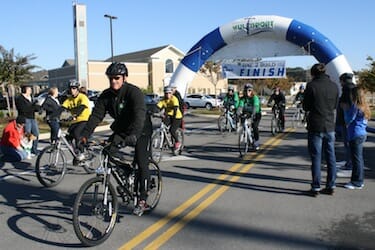 Cleveland, Tenn., residents participate in a bike race to benefit Habitat for Humanity.
Mayor Tom Rowland of Cleveland, Tenn., is proud of his community and the way residents pull together. It was evident in the aftermath of a tornado in 2011, and it is evident every year on Make A Difference Day.
"When there is a need, it is amazing how the people turn out," Rowland says.
At the 2013 event, on Oct. 26, 800 volunteers worked on dozens of activities ranging from a YMCA job fair that helped 64 people find employment, to an effort in which nearly 75 Lee University students assembled backpacks for 10,000 children filled with snacks, toothpaste, shampoo and other basics.
"Those went to three elementary schools where kids don't eat too well when they go home on the weekend," Rowland says. "They were filled with things that some people may not have and would be a luxury to them."
Another project was a charity walk that raised more than $15,000 to benefit about 200 children served by Court Appointed Special Advocates.
"Our income from the walk has nearly doubled every year," says CASA director Suzanne Wisdom. "All of the funds go to a program that recruits, screens and trains volunteers to represent abused and neglected children in the court system to make sure they have a voice, someone to speak on their behalf. We have more and more children every year needing an advocate."
Meanwhile, the local Habitat for Humanity chapter raised enough money to build two houses locally at $48,000 each.
But the people of Cleveland didn't just help their own. They also helped organizations far away. People For Care and Learning held a charity bike ride to raise money to build housing and install sewers system for a village in Cambodia, which is also the site of a new factory outpost of Cleveland's Murmaid Mattress.
"I am protective about my community," Rowland says. "I want to encourage people to learn how to give back one day of the year on Make A Difference Day, and to make a difference throughout the year in as many different ways we can find. Look out your front door or your back door and you are going to find something you can do to help somebody."
Check out the other Make A Difference Day honorees at www.makeadifferenceday.com/winners.
Share this post