A Different Kind of College Party
In honor of National Volunteer Week, April 6-12, USA Weekend and Points of Light are recongizing the 2013 Make A Difference Day honorees, who will be celebrated in Washington, D.C., on April 10. Here we tell the story of college students who help the local community in numerous ways.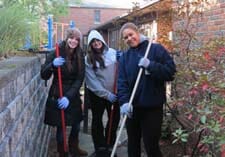 University of Akron students help clean the grounds of the Ronald McDonald house of Akron.
You might expect fraternity members to spend a Saturday morning tossing a ball, washing their cars or just hanging out. But on Make A Difference Day, Oct. 26, Jonathan Wickham, a human resources management major from Wooster, Ohio, and 40 of his Lambda Chi Alpha brothers spent time making blankets for the homeless and repairing toys for disabled kids.
"I never miss Make A Difference Day. In just a few hours, you can make a huge impact," says Wickham, 21, one of 708 University of Akron students and staffers from across the school who tackled 60 community projects.
Few schools rival Akron in Make A Difference Day activity. In nine years, 5,800 volunteers have served 21,000 hours, says Alison Doehring, who volunteered each October as a student and now coordinates the day as assistant director of student life: "It's our largest service initiative by far."
Students repaired rotting park benches, helped public housing residents clean their apartments, weatherproofed a home for veterans, worked on a Habitat for Humanity house, swept trails in Cuyahoga Valley National Park and organized a cereal shipment to a food bank. The city's Department of Neighborhood Assistance worked with the university to identify seven pressing projects, from enlarging a community garden to dragging tires and shopping carts out of a creek.
At Ronald McDonald House of Akron, a low-cost home away from home for families of Akron Children's Hospital patients, 10 students did a thorough fall cleanup of the grounds, "supplying muscle we would have had to pay someone else for," says Meri Skiera, the House's volunteer coordinator. "Our regular volunteers can't handle all that work. We save the important jobs for Make A Difference Day, because we can rely on these great University of Akron volunteers."
Check out the other Make A Difference Day honorees at www.makeadifferenceday.com/winners.
Share this post