Giving Kids With Disabilities a Safe Place to Play
In honor of National Volunteer Week, April 6-12, USA Weekend and Points of Light are recongizing the 2013 Make A Difference Day honorees, who will be celebrated in Washington, D.C., on April 10. Here we tell the story of an organization that refurbished a center that serves people with disabilities.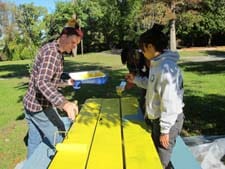 Volunteers work to spruce up the grounds of a center that serves people with disabilities in Washington, D.C.
Sometimes it's not just about the work that gets done. It's also about how you play.
Alison Vaux-Bjerke works at Playworks, in Washington D.C., the local chapter of a nonprofit organization that provides kids with opportunities for safe, meaningful play. That can be hard to come by in some urban areas, where schools can lack safe playgrounds and sometimes have to use neighboring civic recreation centers for recess.
That's how Vaux-Bjerke became familiar with the D.C. Center for Therapeutic Recreation, which provides services for kids as well as seniors and people with special needs. And she knew the place was looking a bit drab.
"We wanted to do something local to our D.C. community that really affected people of varying abilities," Vaux-Bjerke says.
Playworks put out the call out for volunteers to come help give the center a facelift on Make A Difference Day, Oct. 26. More than 60 people gathered on the cold fall morning and set to work – refurbishing picnic tables, cleaning and organizing the library, working on landscaping, decorating recycling bins – and working side-by-side with many of the center's developmentally disabled clients.
"They talked about it for days after," says Priscilla Jones, a recreation therapist at the center. "It was an awesome day. We don't experience that too often."
Clients of the center frequently use (and always notice) the bright yellow picnic tables at the center, and seniors enjoy taking care of the plants and trees indoors. But the physical improvements to the center aren't what left the most lasting impression on Jones.
"I think what I took away from it was the teamwork with Playworks," she says. "A lot of volunteers came out willing to do whatever it took to make the building better."
Check out the other Make A Difference Day honorees at www.makeadifferenceday.com/winners.
Share this post