Reaching Out to Homeless Vets in a Simple, Yet Meaningful, Way
In honor of National Volunteer Week, April 6-12, USA Weekend and Points of Light are recongizing the 2013 Make A Difference Day honorees, who will be celebrated in Washington, D.C., on April 10. Here we tell the story of an Arizona woman and a group of friends who make clothes for homeless veterans.
It all started with a 14-hour airplane ride in 2010 and a loom knitter.
Rather than grumble about the hours of travel she faced flying to Australia and New Zealand, Peggy McGee decided to put the time to good use. Although she's not an expert knitter, she decided to use the loom to make hats for homeless veterans.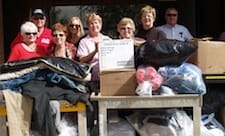 The Women of Quail Creek, and friends, stand among donated items for veterans.
When a woman she met at a local thrift shop donated 39 skeins of yarn to the project, McGee's idea really took shape.
"I knew there was no way I could ever use it all up and told some of The Women of Quail Creek, members that if they would do the knitting I would provide the yarn," says McGee, 69, of the club for women who live in the same 55-and-older adult active community in Green Valley, Ariz. "And as they say, 'The rest is history.'"
The effort has grown into a clothing drive for homeless veterans, held on Make A Difference Day for the past three years.
"After we were told last year that our donations kept the homeless veteran population in the Tucson area clothed for two months, we were determined to do more this year given the number of veterans who had just recently returned from Iraq and Afghanistan," says McGee.
Mission accomplished. Besides handmade hats and other clothing items for Make A Difference Day 2013, held on Oct. 26, community members donated bed and kitchen linens, business suits, vacuum cleaners, backpacks, trashcans and money. The 18 volunteers sorted about 3,000 items and delivered them to the Southern Arizona VA Health Care System.
"These donations help raise the recipients' self-esteem and make they feel good that the community cares about them," says Jodi Frederick, clinical director of Rehabilitation Programs. "It gives them dignity and hope."
Check out the other Make A Difference Day honorees at www.makeadifferenceday.com/winners.
Share this post