Wine Country Giving Back to the Ones Who Work the Harvest
In honor of National Volunteer Week, April 6-12, USA Weekend and Points of Light are recongizing the 2013 Make A Difference Day honorees, who will be celebrated in Washington, D.C., on April 10. Here we tell the story of an organization that sought medical care for people in danger of losing their eyesight.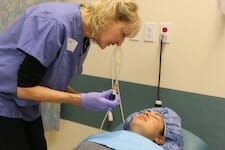 A patient receives care for her eyes at the Eye Care Institute on Make A Difference Day.
To many, Sonoma County, Calif., summons images of fine wines, lush scenery and elegant dinners. But Daniel Rabkin, program manager of Sonoma County Operation Access, and his colleagues, are well aware that many in the community live in poverty with limited access to medical treatment.
On Make A Difference Day, Oct. 26, Rabkin banded together with a group of ophthalmologists and their staffs to save the eyesight of 24 area agricultural workers and day laborers and another six cataract patients in need.
"By the end of Make A Difference Day, 30 people with limited means who never expected to get the help that they needed – and at no cost – were seeing a bright future ahead," says Rabkin.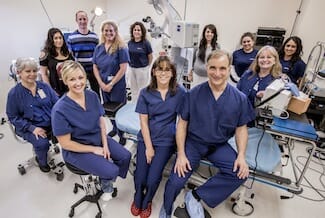 Staff from the Eye Care Institute and Operation Access come together on Make A Difference Day.
Ophthalmologists Robert Anderson, Gary Barth and Daniel Rich of the Eye Care Institute in Santa Rosa, Calif., fueled the project. They performed surgery on agricultural workers with pterygia, a blinding growth often caused by excessive exposure to sunlight.
On the same day, Dr. Naveen Chandra and his surgical team at Kaiser Permanente in Martinez, Calif., restored the sight of the cataract patients. Those in need learned of the program through news media and word-of-mouth campaigns organized by Rabkin and others.
"These patients are enormously and rightly grateful to the doctors who donated their time and skill for surgery that the patients definitely needed but could not afford," says Sally Giovinco, office manager of the Eye Care Institute. "They lined up all the way out the door to check in an office most had never been to before and some didn't speak any English. … From beginning to end, the patients and all of us were privileged to be part of something so completely positive."
Check out the other Make A Difference Day honorees at www.makeadifferenceday.com/winners.
Share this post