What AmeriCorps Taught Me about Love
This post is by Caitlin Morneau, an AmeriCorps alum and operations coordinator at the Smith Center for Healing and the Arts.
My love story with AmeriCorps didn't start in a movie theater or a restaurant, but on a farm in rural Appalachia. We first met while repairing homes with Bethlehem Farm.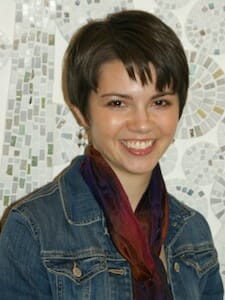 Caitlin Morneau (Photo by Smith Center for Healing and the Arts)
We got serious when I served as a caseworker at a homeless shelter through Catholic Charities' Project SERVE. We went on wild adventures to college campuses across the country recruiting for Catholic Volunteer Network. And we walk side by side each day in my journey as a proud AmeriCorps alum.
This ongoing relationship has impacted my career, deepened my faith in God and enhanced my understanding of the world around me.
No, this is not a story about how I met my husband through AmeriCorps. This is a story about how AmeriCorps taught my husband and me to serve each other in marriage. Furthermore, it is about how making service a priority in our home has challenged us to be better stewards to our family, friends and community.
In each of my AmeriCorps experiences, I lived with others in intentional community.
When I grew frustrated with myself because I knew absolutely nothing about home repair, when I broke down in tears after a difficult day at the shelter, when I felt completely lost for a sense of direction in my life, they held me up, they helped me process and they got me through.
I did not begin to understand how these community relationships would inform my marriage until September 2013. Two months after our wedding, my husband Aaron accepted a job, teaching band at a Title 1 middle school.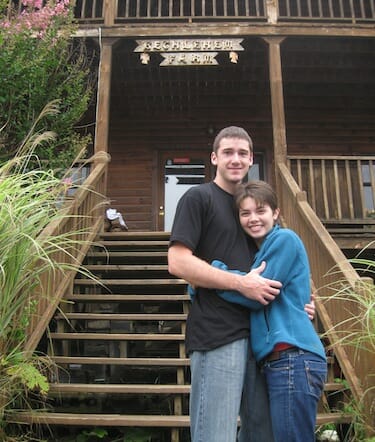 Caitlin Morneau and her husband, Aaron, visit Bethlehem Farm, the first place Caitlin first served through AmeriCorps.
Watching Aaron struggle with limited resources and the ups and downs of teaching a disadvantaged population, I was reminded of my own struggles while serving.
When he grew frustrated with his students' lack of discipline in the classroom, I recalled my frustration with a client who refused to attend the parenting classes that I knew would benefit her and her son. When he rejoiced with his students for an "Excellent" score at their band competition, I remembered rejoicing the day that I moved my first client into permanent housing.
Each day that was taxing, I envisioned the light of hope that came when someone offered me the encouragement to keep going. I offered that same support to my husband, and in turn, he shared it with the students he served.
Striving to put the other person's needs before our own is how we approach our marriage, family and community life. For us, valuing service also means rescuing our dog from a shelter and participating in Martin Luther King, Jr. Day of Service activities together. It means setting a portion of our income aside to donate to our churches and beloved charities and planting a garden in our backyard to reduce our carbon footprint.
I am truly grateful for the ways that AmeriCorps has taught me to be not only a worker for justice and peace, but also a better wife, daughter, sister, aunt, friend and citizen of the world.
To read the full version of this post, visit the AmeriCorps Alums blog.
Share this post