Looking for Love or to Strengthen Your Bond as a Couple This Valentine's Day? Try this.
This post is by Chris Zenner, co-founder of iHeartVolunteers.
On Valentine's Day – if you're part of a couple – you might go out for a romantic dinner or catch a movie. If you're single, you might celebrate your independence or avoid thinking about Valentine's Day altogether.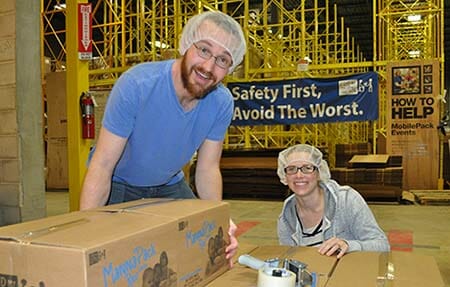 Chris and Shelly Zenner help pack food for Feed My Starving Children in Coon Rapids, Minn., which sends meals specifically formulated for malnourished children to nearly 70 countries.
But I've got a better alternative for you: Go volunteer!
Why volunteer on Valentine's Day? First, volunteering makes you feel better. If the idea of Valentine's Day gets you down, research shows that volunteering may improve your mental health and make you feel happier. Doing good makes you feel good.
Second, it will save you money. No need to spend big bucks on dinner and a movie. All you need is a good attitude and the willingness to help.
Third, volunteering is an excellent way to meet new people. Possibly, single people who are compassionate and caring.
In many ways, my wife Shelly and I started off like most couples; we opened up to one another about what we wanted out of life. The catalyst in our relationship was when we discovered we had both wanted to join the Peace Corps.
A year after we started dating we got married and six months later, in 2009, we were Peace Corps volunteers serving in Hukuntsi, Botswana.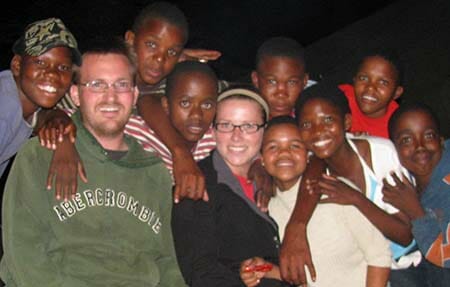 Chris and Shelly Zenner, serving as Peace Corps volunteers, spend time with orphans during a camping trip in Botswana.
We participated in HIV/AIDS education and training events, assisted individuals in computer skills development, helped entrepreneurs with their business plans and coached youth basketball. It was an empowering experience.
Not only did the Peace Corps bring us together, it made us stronger as a couple. Living in a remote village in Botswana's Kalahari Desert with your partner will do that. At the end of the day you are each other's main support system. Our time in the Peace Corps has made a huge impact on our relationship and our lives.
The Peace Corps made us realize that volunteers share a lot of the same values and ambitions. On top of that, we noticed that Peace Corps volunteers regularly end up marrying other Peace Corps volunteers.
After putting two and two together Shelly and I decided to start iHeartVolunteers, an online dating service for people who volunteer. We want the love of service to bring people together, as it did for us.
So get out and volunteer this Valentine's Day! You could meet someone who shares your passion. If not, check out iHeartVolunteers and sign up for free for a limited time as our community grows.
Do good, together!
To find volunteer opportunities in your area, please visit AllforGood.org.
Share this post