Answer a Call for Kindness for a Chance to Receive a $500 Grant
Days after the Boston Marathon bombing, a photo of 8-year-old Martin Richard holding a handmade poster that read, "No more hurting people – Peace" circulated the Internet and was shared by media outlets worldwide. The boy, who was killed when the second of two bombs exploded near the finish line, believed in a more peaceful world.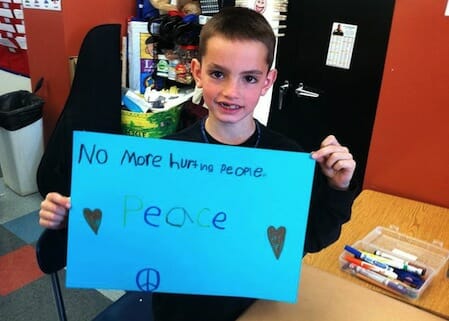 Martin Richard holds up a sign he made that reads, "No more hurting people. Peace."
Now, generationOn and Hasbro are collaborating with the Martin Richard Foundation to honor Martin's wish, through the Martin Richard Bridge Builder Grant Program.
Here's how it works:
Young people ages 5 to 18 submit ideas for service projects that promote peace and kindness and create positive change in their schools and communities.
The program will award $500 grants to the top 30 replicable project ideas. Projects will be conducted in April and May.
Submissions must be made by this Friday, Feb. 13, through the generationOn website.
Ten projects will be developed into official Martin Richard Bridge Builder project guides, created to inspire other kids and teens to take action. Three projects will be turned into public service announcements to amplify the message of peace and inspire others to create and spread kindness worldwide.
"By encouraging kids to pay attention to what is happening around them, we can help shape attitudes of tolerance and kindness," said Denise Richard, Martin's mother. "We try to teach our own kids that they are not too young to lead by example – something that at age 8, Martin seemed to understand well."
For more information on how to submit service projects to The Martin Richard Bridge Builders Grant Program, please visit generationOn.org.
Share this post