"Lean In," "#GirlBoss," "Thrive," "Playing Big." The list of books that aim to empower women goes on, and for good reason. In this spirit, Always' recent Super Bowl ad – a viewer favorite – challenges us to rethink what it means to do, run, throw and fight "like a girl."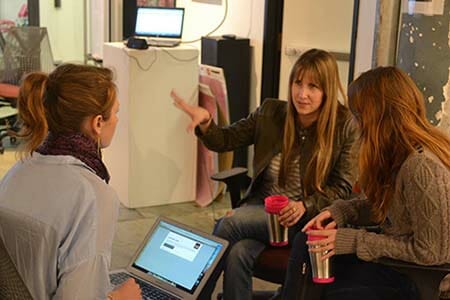 Co-founders from Union Capital Boston, SparkMarket and Akimbo chat during the fall 2014 Civic Accelerator program in San Francisco.
That theme drives the spring 2015 session of the Points of Light Civic Accelerator, which will focus on startups that create greater opportunities for women and girls to succeed in today's economy. (Apply here for the12-week boot camp for startups.)
We reached out to some Civic Accelerator alumni – who are in the thick of testing products with customers, networking and pitching investors – to get their take on leading a social enterprise as a woman. In other words, what is it like to startup like a girl?
Here's what they told us.
Andrea Lo, co-founder of Piggybackr, a crowdfunding platform designed for users of all ages: "When I show up, people notice because I'm not like everyone else in the room. And though I'm sometimes underestimated, I like to see it as having many more opportunities to prove people wrong and exceed their expectations."
Laura Weidman-Powers, co-founder of CODE2040, a nonprofit that creates opportunities for blacks and Latinos in technology: "In terms of creating a gender lens within the organization, we do try to proactively consider any unique barriers, external or internal, that women in our network may experience as applicants or participants in our programming."
Mackenzie Hughes and Danielle Gaglioti, co-founders of Akimbo, which itself is creating a more inclusive workforce by connecting workforce organizations to companies: "As female entrepreneurs, we seek to not only exemplify strong women ourselves, but to change the perspectives of people all over the world so that one day they can see that with equality and inclusivity comes great change and success."
Are you a woman running a civic-minded social enterprise, or are you from a startup focusing on solving issues affecting women and girls? Our Civic Accelerator is interested in exploring a range of solutions, including STEM (science, technology, engineering, math) education; workforce, leadership and 21st century skills development; and innovative childcare, public safety and community development solutions.
For more information and to apply visit bit.ly/civicxapply.
What do you think it's like to startup like a girl? Click here and tell us on Twitter.
Share this post