Fidelity's School Transformation Days Breathe New Life Into Schools
Nicky Niewinski's school was built in 1961 and looked like it.
With about 83 percent of her students qualifying for free or reduced-cost lunch, Niewinski worried the dated appearance could be sending the wrong message.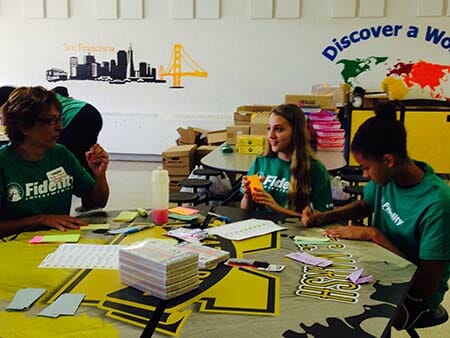 Fidelity employees and Marsh Preparatory School students put together financial literacy kits at the Dallas school during its School Transformation Day.
"I believe that perceptions influence behavior," said Niewinski, principal of Marsh Preparatory School in Dallas. "One of the things I have wanted to do here – with help – was change the appearance of the building on the inside."
Fortunately, help wasn't far away.
Since 2010, Fidelity Investments, one of the world's largest providers of financial services, has partnered with HandsOn Network by engaging thousands of employees, families and friends via Fidelity Cares – the company's employee volunteer program, which, among other things, strives to revitalize the learning environments for students in need.
The mission of Fidelity Cares is to support a solid education foundation and reinforce or, in many cases, introduce financial education principles. This is often achieved through the projects implemented, whether creating financial literacy kits, hosting a STEM (Science Technology Engineering and Math) fair or designing or constructing a bucolic reading garden.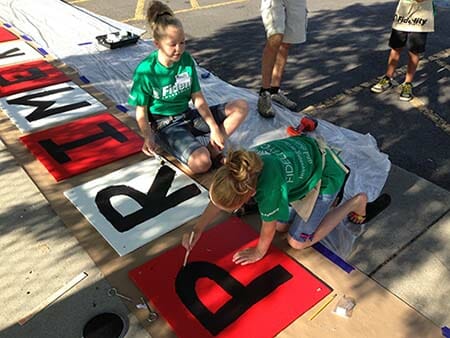 With help from Fidelity employees, students paint boards for a sign during School Transformation Day at Jackson Elementary School in Salt Lake City.
Affiliates of Points of Light's HandsOn Network organize School Transformation Days, developing and managing the volunteer tasks and logistics for each daylong project. School Transformation Day has taken place at 23 schools across the country, reaching an estimated 35,000 students.
Nationwide, 81 percent of students graduate from high school with a regular high school diploma and more than 7,000 students drop out of school every day, according to the U.S. Department of Education. Nearly half of dropouts occur in the ninth grade.
School Transformation Day projects are identified through collaboration with a number of relevant stakeholders, such as school administrators, teachers, students, parents, civic leaders, Fidelity employees and HandsOn Network staffers. Projects are designed to enhance the learning environment, reinforce college messaging, support school needs, and encourage and inspire students.
School Transformation Days have become Fidelity's largest annual employee volunteer effort.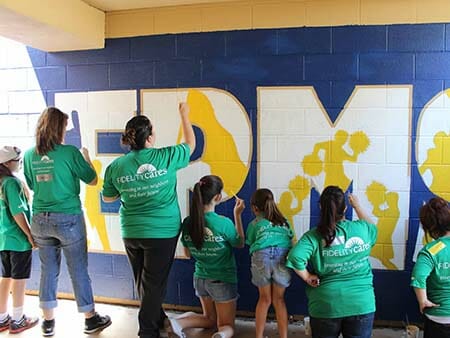 Fidelity volunteers and Ernie Pyle Middle School students paint a mural at the Albuquerque, N.M., school during its School Transformation Day.
"School Transformation Days are one of our most popular volunteer events, engaging thousands of employees to help thousands of students year after year." said Gary Blank, senior vice president of regional public affairs and community relations. "There's no other event like it where our employees can join together in such large groups and make an impact for students that they can see and feel at the end of the effort."
Since its launch, the Fidelity Cares program has received positive feedback and praise from Fidelity employees, students, teachers, HandsOn Network affiliates and partners, along with recognition from local, state and national elected officials.
John Chickering has volunteered as both a participant and a leader for School Transformation Day since the project's inception at two Rhode Island public schools in Providence and Pawtucket. His volunteer tasks have included building cabinetry, painting, assembling benches, removing safety hazards and even scraping bubble gum off the underside of classroom tables.
Volunteering "is just in my DNA," said Chickering, who also participates in regular service projects through his church and with his family.
He's drawn fulfillment from hearing teachers and principals talk about how valued the work has been by students. He has also enjoyed watching coworkers come together around their projects.
"Part of it is a chance to reinforce the working bonds I have with people that I have already established and the other is to build new connections," he said. "There's a personal development aspect to this."
For Fidelity, proof of its popularity has been in the growing number of volunteers. Niewinski counted 100 volunteers at Marsh in 2013 and 250 volunteers last summer. They painted classrooms, offices and hallways and built outdoor benches around trees. Some Fidelity employees partnered with student volunteers to put together 1,200 financial literacy kits containing information such as how to start saving money and how to calculate interest.
School Transformation Days have done so well at Marsh, it has led to other projects. Fidelity has also invested in a new Lego robotics program at Marsh, supplying funding to help the school buy equipment.
"I don't believe that would have happened had it had not been for School Transformation Days," Niewinski said.
Share this post