Getting Engaged – With Volunteers
This post is by Tricia Thompson, vice president of training and consulting at Points of Light.
I don't know about you, but I'm not a big fan of being managed. Being managed feels constraining and restrictive.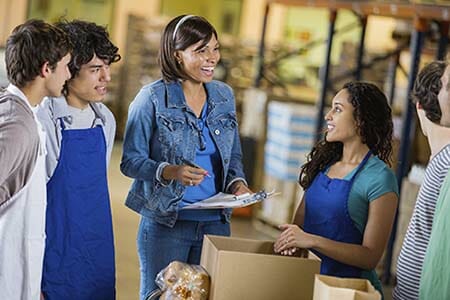 I do like to be engaged though. Being engaged sets me up as an active participant in supporting and achieving a goal. It means that I have something to contribute. I have a hunch I'm not the only one who prefers being engaged rather than managed, and I think there's a lesson here about how we approach our work with volunteers.
For example, Feeding America San Diego (FASD) has been embracing a philosophy of volunteer engagement rather than volunteer management. It wasn't always this way. It had an efficient system for volunteer sorting and packing of food boxes. The volunteers had good experiences and many came back to serve again – but there was a limit to what they could do.
The food bank's staff realized so much more was possible.
First, they recognized that their repeat volunteers could make great project leaders and began to recruit and train them for that role. Then, they asked the new project leaders for their opinions on the volunteer experience. After all, they were on the front lines with other volunteers and could see and respond to needs firsthand.
The project leaders set up a special area with a log book to note how projects went – what worked and what needed improvement. As a result, the food bank had a better picture of what went on with volunteers and a system for continuous improvement.
But they didn't stop there. The FASD staff began to get to know the people who were packing boxes and realized that there were nutritionists, chefs and other professionals in their ranks. They engaged these volunteers in creating recipe cards for nutritious meals and offering cooking classes.
With more skilled volunteer roles available, volunteer programs manager Teresa Dale noted a 40 percent increase in the hours skilled volunteers contributed.
"These volunteers typically serve longer, bring specialized experience and directly build departmental and organizational capacity," Dale says.
The volunteer department needed additional capacity, too. It took up a volunteer on her offer to create new tracking spreadsheets. She now maintains and updates these spreadsheets to produce reports on volunteer hours, group participation and impact of service. The expanded metrics are used in board, fundraising, volunteer recruitment and marketing materials.
Even the food box packers, who may only serve once, are engaged in deeper ways. The warehouse now features an area where volunteers and their groups can take photos that highlight their service. Participants are encouraged to share these photos on social media and their company websites.
These new roles have given more volunteers a chance to get directly involved with the work of the food bank. Moreover, they have helped attract even more volunteer prospects to recruiting sessions – a 40 percent increase, according to Dale.
All of these strategies are consistent with being an organization that engages volunteers well at all levels – or what we call a Service Enterprise.
Service Enterprises recognize that engaging, rather than managing, volunteers means that we are more likely to see all the talents, skills, connections and passions that people bring when they show up to serve. And that means a richer experience for the volunteers, our organizations and our causes.
What are your thoughts about engaging versus managing volunteers?
Share this post