When it Sounds Like a Baseball Team Is Pitching Balls Against Your House, Will You Be Ready?
Read about how folks in Milwaukee are preparing for disaster. To help your family take action, visit Good & Ready, where you'll learn how to create various disaster plans, build a preparedness kit and more.
Julie Brown of Eagle, Wis., could barely see as she drove home one June evening four years ago – hail and rain pounded on her car relentlessly. She tried to phone her husband, Jason, who was home with their two children, Jillian and Joseph, ages 8 and 4 at the time.
The Brown family of Milwaukee share their story about surviving a tornado. (Click photo to play video.)
But Jason Brown and the kids were huddled underneath a basement staircase, bracing for a tornado.
Above them, the house shook. Jason recalls feeling air pressure so strong, "It felt as if the top of my head was going to explode." In addition to a deafening roar, the father and children heard what sounded "like an entire baseball team pitching balls against the house."
Minutes later, the noise stopped. When Jason ventured upstairs, he found the inside walls of the home plastered with garden mulch and mud, blown inside through windows that now bowed outward. The garage door was gone, as was the kids' heavy, wooden backyard climbing gym and slide.
Meanwhile, Julie had to abandon her car, as all roads leading to her subdivision were blocked with fallen trees and power lines. Julie had no flashlight, no rain gear and no sturdy shoes or boots for wading through deep water or climbing over limbs.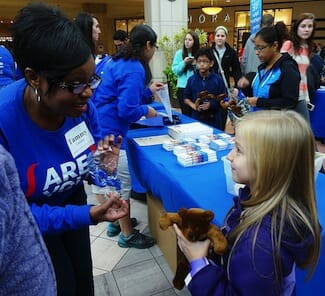 Volunteer Tammy Lockhart helps Delilah Haggerty fill her family's emergency kit at Mayfair Mall.
Hundreds of shoppers who lined up Oct. 18 at Mayfair Mall in suburban Milwaukee to assemble starter emergency kits admitted they also would be unprepared for a sudden disaster, even though Wisconsin gets hit by deadly tornadoes each summer and howling blizzards each winter.
"Thank you, because I just never even think about it," said Merline Levers of Milwaukee, who uses an electric scooter for mobility, after receiving her emergency kit.
The Allstate Foundation teamed up with Points of Light in Milwaukee to raise awareness about preparing for disasters as the final stop on a 14-city nationwide tour that began in May. Similar events were held in Los Angeles, Houston, Salt Lake City, Colorado Springs, New York, Indianapolis and other cities.
As the tour wrapped up, more than 10,000 emergency kits had been distributed nationwide. In Milwaukee, event participants and volunteers put together 500 kits in a little over two hours.
Volunteers from local Allstate agencies, The Allstate Foundation and Allstate's national catastrophe team teamed up with local volunteers from the American Red Cross and the Nonprofit Center of Milwaukee – part of Points of Light's HandsOn Network – to explain the purpose of each item in the kit, from hand-cranked flashlights to rain ponchos to dust masks to loud whistles for attracting the attention of rescue workers.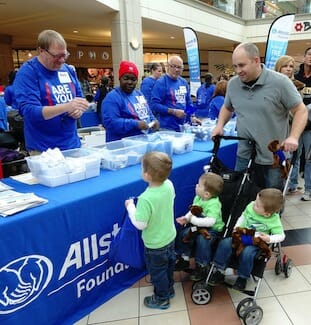 Ryan Bagley and his sons Jack, 4, and twins Luke and Max, 2, put together an emergency kit.
For the Wisconsin event, waterproof mylar "blankets," designed to retain 90 percent of a person's body heat, and lists of winter safety tips were added to the kits.
Bilingual agent Alex Ferreira of Milwaukee explained the kits and conducted surveys in Spanish when needed. Yong Yang, an agent in Brookfield, Wis., who helped distribute emergency kits, said many people appreciated the opportunity to learn how to prepare.
Andre Walls of Milwaukee, one of the attendees, said he once shivered for nearly an hour awaiting help after one of his tires went flat on a bitter winter night. Walls said that from now on he plans to stock his vehicle with a blanket, flashlight and battery jumper cables.
Event participants with young children seemed especially interested in getting prepared.
"Usually, you figure, `I'll be OK,' but now that I have other people to care for, I'm making sure they're OK and they're all set," said Jessica Olbrot, who attended the event with her husband, Kris, and toddler, Olivia.
Ryan Bagley – who turned heads as he expertly managed a double stroller shuttling identical twin sons Luke and Max, 2, while his 4-year-old son, Jack, held his hand – vowed to create a home emergency kit that would contain safety essentials as well as toys to keep the boys occupied and calm in the event of a disaster.
Children at the event were given small teddy bears – just as they are during real disasters by the Allstate "Cat" team, which often finds families bereft of all possessions, including their children's stuffed toys.
"They're devastated and they don't have anything," said Mark Smith of Traverse City, Mich., who works with Allstate's flood disaster team based in Mobile, Ala.
Tanya Joeng of Allstate Foundation's Northbrook, Ill., office, said it's been gratifying to help prepare the public for emergencies. "People really listen," she said. "They really take in the information, which I think it is really great."
Share this post