What Are the 10 the Most Innovative Citizen Engagement Programs in the Country?
The National Journal today named ServiceWorks – powered by AmeriCorps, the Citi Foundation and Points of Light – as one of the 10 most innovative citizen engagement programs in the country.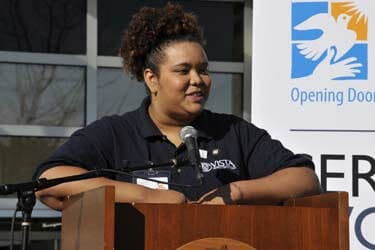 Jasmine Hortberg, an AmeriCorps VISTA member, helps run ServiceWorks at Covenant House in Washington, D.C. (Photo by Max Taylor)
The National Journal list places ServiceWorks in great company, by also naming Boston's Citizens Connect, City Year, Cure Violence, Generation Citizen, The Mission Continues, Remote Area Medical, San Francisco's Entrepreneurship in Residence Program, Seattle and King County Department of Health Access and Outreach, and Tumml.
ServiceWorks is a groundbreaking national program that uses community engagement and volunteer service as the primary strategies to help 25,000 underserved young adults in 10 cities develop the skills they need to prepare for college and careers.
National Journal correspondent Fawn Johnson writes:
Citi Foundation COO Brandee McHale calls ServiceWorks a jobs program in disguise. A joint project with AmeriCorps and Points of Light, the program uses volunteer service as a way to transition low-income young adults into jobs. "How do we really help prepare young people for the 21st-century workforce? The road map to success looks very different from prior generations," she said. "In civic-engagement projects, you build leadership skills, you build workplace skills."
ServiceWorks, which launched in September, has partnered with local civic organizations in 10 cities. Those organizations are recruiting high-school-age kids who will develop their own community projects, present those ideas to community leaders, and implement them. Sticking with a project from start to finish will help participants develop entrepreneurial leadership skills that employers often seek in job candidates, McHale says. Moreover, the kids will realize they actually have the power to make a tangible change in their own communities.
ServiceWorks is up and running in Boston, Chicago, Dallas, Los Angeles, Miami, New York, Newark, San Francisco, St. Louis and Washington, D.C. To find out more about local nonprofit partners, click here.
To find out more about how young adults, ages 18-24, can enroll and how adults can volunteer as "success coaches," contact LaRhonda Jackson, [email protected].
Share this post