Where Will You Be on Jan. 20, 2014?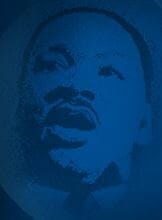 The Martin Luther King, Jr. Day of Service and Remembrance is just five weeks away, on Jan. 20, 2014. Make plans today to volunteer in your community, or to host or attend America's Sunday Suppers, gatherings designed to bring people together to share a meal, talk about critical issues and discuss ways people can unite to meet urgent local needs.

Visit Points of Light on Facebook to find a volunteer opportunity near you, download a project toolkit, or pledge to host an America's Sunday Supper in your neighborhood.
Through a grant from the Corporation for National and Community Service, Points of Light is supporting eight signature projects with these outstanding nonprofit organizations: Global Citizen (Philadelphia); Alpha Kappa Alpha Sorority (nationwide); HandsOn Broward (Broward County, Fla.); United Way of Greater St. Louis (St. Louis); Volunteer Center of Greensboro (Greensboro, N.C.); HandsOn Atlanta (Atlanta); United Way HandsOn Suncoast (Tampa, Fla.); and the National Alliance of Faith and Justice (nationwide).

Learn more about how you can be involved at www.pointsoflight.org/mlk.
Share this post