Why I Volunteer in My Marine Corps Community and Why You Should Too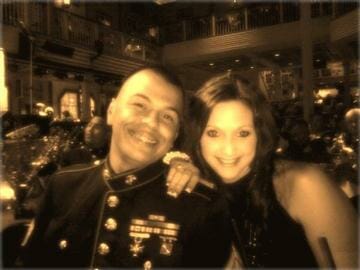 Today's post is reposted from USMC Families blog by Amy Granillo.
Volunteering feeds the soul. When you help someone in need or an organization that shares your beliefs or represents an aspect of your life, you are filling a need and potentially changing lives including your own. When people ask me why I volunteer in so many different capacities with the full plate I carry on a daily basis, I always tell people the same thing: The warm and fuzzy that I get from helping create something or make a change in my community makes me feel good. That warm and fuzzy is what volunteering is all about.
When I see a need I want to do what I can to fill that need if it is within my capabilities. My personal passion is helping Marine Corps families. As a Marine Corps spouse I know the feeling of needing community. I have experienced lost opportunities because I simply didn't know about something or people didn't reach out to me to share in the fun of an event. I have volunteered in my civilian community since I was a kid* and when I became a part of the Marine Corps community through my marriage I felt a drive to make myself as much a part of the new community as I could.
The bond Marine Corps families have is not always just felt but seen as well. When I organize fun events for fellow United States Marine Corps (USMC) families, it feels good to see kids having fun and spouses smiling and relaxing while they share stories about their kids that have happened at earlier duty stations. That feeling is what moves me forward to planning the next event. By giving USMC families an event to bond at, I am giving something positive to their lives.
I volunteer to help spouses reach their goals in their careers because one of my secret spouse powers is developing professionally while living the life of an Active Duty spouse through Permanent Change of Station (PCS), deployments, long recruiting duty hours, and whatever else this life we choose throws my way. Not everyone knows how to further themselves and I feel like since I do, I should help other spouses reach their dreams. If you know how to do something and you also know that your neighbor or friend or the brand new 18 year-old spouse attached to your spouse's unit doesn't but they are clearly in need, you should offer your hand to help them. Someone asked me why I think helping others is important. My answer is simple, because in my heart I want to help the person I see in need be successful in whatever it is they are working towards. Successful spouses equal successful families and the Marine Corps and our nation need successful families.
Even the smallest gesture such as making homecoming signs, working a community clothing drive, or baking for a fundraiser makes a positive impact. It is amazing what might be accomplished when you help others. There are many important reasons why Marine Corps spouses should volunteer, below are some important reasons why you shouldn't let a volunteer opportunity pass you by.
Learning new skills: When you volunteer, you get to meet people who live their lives in many ways. You meet people who are in need, and then you meet people just like yourself who are looking to lend their talents and give back. Network with those who organized the homecoming sign event and chat with those people who are just looking for a warm coat. In the end, you not only will expand your network of people, but your life will be forever affected by the stories that you hear. You can develop your communication skills and learn how to build leadership skills. By networking with people you are developing "people" skills to take with you to the next duty station and beyond. The more volunteering you do, the further your leadership skills will develop as you begin to volunteer in different roles and take on more responsibility.
Make an impact: Whether it is cooking meals and handling carpool for a pregnant spouse who has a deployed husband with 3 school age children and a baby on her hip or working a booth at a USMC family day, one thing will always be the same: it is the thought that counts. Your gesture will help benefit those who are in need in some way. You have the choice to make a change, and when you make a change you begin to see the positive impact you are making on your community.
Personal development and satisfaction: Your time is valuable. Spend an hour organizing an on-base neighborhood pot-luck, or give two hours of your time at the child-care center. No matter what the task, in the end you are ultimately bettering yourself and your Marine Corps community. As you spend your time on different functions, you will come to know what you enjoy and what you don't and what volunteer activities give you your own warm and fuzzy. Once you take a break from the everyday stresses of life, such as work, bills, kids, deployment, reintegration, etc., you will begin to see that all the little things and seemingly meaningless tasks matter.
Volunteering helps challenge you and can take you out of your comfort zone. Use these challenges to your advantage. Prove to yourself that no task is too small or role is too big. You will feel a satisfied happiness and experience feelings of accomplishment when fellow Marine Corps families say thank you and you step back and look at what you are doing for your community. Knowing that you make a positive impact on people's lives, will help you to become a more positive person.
Always be grateful for what you have been given. Be grateful for your talents and skills and put them to use for no reason other than because someone needs what you can give. Give back to your Marine Corps community and "be the change you want to see." (Mahatma Gandhi)
*Reference can be read about on USMC Families website, in part one of the volunteerism series "Volunteerism can lead to Employment."
Find ways you can help the military community in your area through the Community Blueprint.
Share this post
---