Big or small, your business has the power to lead change through skills-based service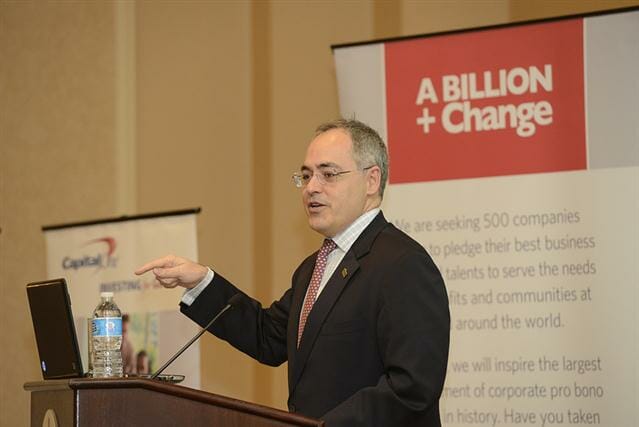 Today's post is written by Jim Corcoran, the president and chief executive of the Fairfax Chamber, which represents 650 businesses with nearly 500,000 employees in Northern Virginia.
Photo of Dr. Angel Cabrera, president of George Mason University, who spoke at A Billion + Change's pro bono summit on Monday. "The emerging generation of employees don't want to follow a path of 'make money now and give back later,' he said. They "want opportunities for change from day one."
At a Pro Bono Summit on April 22, convened by A Billion + Change, Deloitte, the Fairfax Chamber, George Mason University and Fairfax County Government to kick off National Volunteer Week, "collaboration is critical" emerged as the central theme. From the opening remarks to a vibrant keynote discussion, to a panel of corporate pro bono leaders and breakouts, the idea of cross-sector partnership and "we're all in this together" (non-profits, government, educational institutions, intermediary organizations and the private sector) was the common thread. Throughout the day, the group discussed how to harness the power of pro bono – or skills-based volunteering – to move the needle on pressing issues like disconnected youth, hunger, affordable housing, homelessness, education, the environment and more.
For the Fairfax Chamber, pro bono is an important part of the solution to issues facing our region. The brain trust of knowledge and talent of the workforce in Northern Virginia and metro DC is exceptional. The intellectual capital of our people plays a key role in addressing our challenges. It was a pleasure to partner with these diverse organizations to leverage our private sector network to bring companies to the table – and more importantly – into the dialogue.
As Dr. Angel Cabrera, president of George Mason University, said in his opening remarks, the emerging generation of employees doesn't want to follow a path of "make money now and give back later." They "want opportunities for change from day one. They want to get involved and give back as they build their careers, and do so in a way that builds their skills, leadership capacity and furthers their professional development."
For today's employees, it's about more than "here's a T-shirt, go do something fun," according to Deloitte's National Leader of Community Involvement Evan Hochberg. CEOs don't want to see volunteering, they want to see impact. "It's about change, not charity," he says. And the great thing about skills-based volunteerism is that your company doesn't have to be a large professional services firm like Deloitte to engage.
Hilton Worldwide, which was represented by Vice President of Corporate Responsibility Jennifer Silberman at the summit, has a workforce that is largely hourly, and according to Silberman, there is an opportunity for the entirety of the company's workforce to use their unique experiences and hospitality skills to help nonprofits deliver a better experience to their stakeholders. This means that employees from all levels of the company– from management and front desk staff to cleaning crews, food and beverage employees and more—can participate in service to their community.
According to Capital One Bank Managing Vice President, Community Affairs Carolyn Berkowitz, the return on investment for their company has been tangible. CSR boosts employee engagement more than base pay and matters more than employee's relationships with their manager, she told attendees.
Mid-size companies and small businesses have an important role to play in the pro bono movement. Margie Johnson, Acumen Solutions Senior Director of Corporate Care, spoke about her company's Board Leadership Program, which trains Acumen's leaders to effectively sit on nonprofit boards. Carrie Fox of C.Fox Communications also shared her small businesses' "Inspired Thought" award, which provides a deserving nonprofit at least $20,000 worth of pro bono PR and marketing services every year.
Fairfax County Government was also an important partner. "We look forward to working with Taproot, Volunteer Fairfax and others to broker new pro bono partnerships in Northern Virginia and bring pro bono resources of business to local government and non-profits that are tackling our most pressing issues," stated Patti Stevens, Executive Director of Fairfax County's Office of Public Private Partnerships.
So whether you're a large FORTUNE 500 company, a small sole proprietorship or somewhere in between, there's a role for your organization in A Billion+Change's pro bono movement. More than 350 businesses across the country —43 in the DC Metro Area—have already joined the campaign. We encourage you to take the free and simple A Billion + Change pledge, invest your human capital in partnering with Northern Virginia non-profits that are already making an impact on issues but need your support, and continue to dialogue with corporate peers on pro bono and other CSR issues through the Fairfax Chamber's Corporate Social Responsibility Series.
Find more photos of the Billion+Change Pro Bono Summit on Flickr.
Share this post
---