Would Your Organization Know What to Do With an Influx of Volunteers?
Amy Chapman is responsible for supporting 12,000 Capital One employees in volunteering, but she faced a problem. Though she had thousands of potential volunteers ready to use their skills for good in their communities, nonprofits weren't necessarily able to receive them.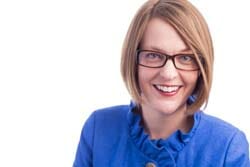 Amy Chapman of Capital One
"We are passionate about pro bono work, but we know that it requires capacity," said Chapman, Capital One's community affairs manager for central Virginia. "Organizations need to be ready to receive that kind of support."
The volume of meaningful volunteer projects Capital One needed led Chapman to a conversation with HandsOn Greater Richmond, a local affiliate of Points of Light's HandsOn Network that supports effective volunteer engagement. Both the company and the nonprofit had a commitment to engaging volunteers in better ways and to working across sectors to make that vision possible.
So they crafted a partnership around the Service Enterprise Initiative that enabled each sector to play to its strengths. The Service Enterprise Initiative is a comprehensive training and coaching model that strengthens nonprofits by helping them better leverage volunteers strategically throughout the organization.
Capital One provided the financial support and invited a select group of its grantees to participate. HandsOn Greater Richmond delivered the training, coaching and technical assistance.
"We saw the Service Enterprise Initiative as a way to help organizations build capacity," Chapman said.
HandsOn Greater Richmond Director Vanessa Diamond appreciated Capital One's thoughtful approach: "They wanted to understand how a large-scale company could engage its volunteers responsibly and in helpful ways that were not overwhelming to nonprofits."
Chapman added, "The Service Enterprise Initiative gives nonprofits tools for transforming their approach to service. It is a way for them to think differently about how they leverage volunteers. It helps them talk differently about the value of time and resources invested into volunteerism. It's not a 'nice to have', it is fundamentally a part of their organizations and how they measure success."
Chapman credits a comprehensive and collaborative approach to volunteer capacity to the Service Enterprise Initiative's local success. It also helped that Capital One determined in advance what level of commitment, involvement and investment it wanted to have, a strategy Chapman would recommend to other funders interested in this work.
"We knew that financial capacity and volunteer expertise were important to making an impact in our community," Chapman said. "We funded a two-day volunteer management training to enhance participants' skills in the basics. We also gave grants so that organizations could invest in the areas of need they identified in their action plans."
The strategy is working in Richmond and shows great potential for other communities. Chapman encourages organizations seeking support for volunteer engagement to make a business case for it.
"It's not only about hearts and hands, you need to have data to show how volunteer work will impact the community and the organization," Chapman said. "Do your homework to understand a company's strategy for volunteerism and show how your work aligns with that."
Diamond agreed. "Approach funders as partners and ask for ideas and input, not just dollars. It helps that this is a national model that is bigger than any one partner. It was an asset for our region. It felt like we were all part of the same team."
Chapman is pleased with the results. "One of our participants summed it up best. They thought the Service Enterprise process would transform volunteerism at the organization. They discovered that it would transform the organization through volunteerism."
For more information about the Service Enterprise Initiative, visit the program's website.
Share this post
---