Listen. Learn. Act to End Racism March 2021 Conversation
Call the Women: The Impact of Women on the Frontlines of the Civil Rights and Social Justice Movements
Women have long played a central role in shaping movements. On March 18, during this special conversation on civic engagement during Women's History Month, we heard from leading women activists from the Atlanta Student Movement of the 1960s and today's leaders who are at the forefront of the national social justice movement in an exploration of history's influence on the present. Attendees gained insights from civic leaders and activists on the frontline of change in two of the most pivotal social justice movements of our time. Watch now for an engaging conversation about the role and influence of women in contemporary national social justice movements and the power of civic activism.
Conversation Key-Takeaways
Women have the power to come together, but gender does not create an automatic trust or bond. Bonds are created by listening and learning about each other's histories, having productive conversations about the realities of social justice that call people in instead of calling them out, and through a shared desire to dismantle toxic hierarchies.
We have to form relationships with people that are different from us. That is the first step to moving forward.
One does not have to do this work alone; change does not happen without a collective.
For anyone in an organization or business, starting a resource group at your workplace is an opportunity to give a voice to underrepresented communities and educate colleagues.
WATCH THE CONVERSATION ON-DEMAND
Elizabeth Gowans, Spelman Student
Elizabeth Gowans is a sophomore at Spelman pursuing a degree in history with a minor in curatorial studies. She was recently selected to serve a three-year team as the student trustee on the Spelman College Board of Trustees. A presidential scholar and an active member of the Honors Program, the History Club, Spelman Chapter of National Council of Negro Women, and the AUC Art History + Curatorial Studies Collective. She is also a member of the Spelman Social Justice Program where she serves as the Archives Intern of the Blue Record Podcast and a Quarterman-Keller Scholar, working to create a platform for social change that is undergirded by an anti-racist framework, and. Her plans for the future include becoming a professor, historian, archivist, and college administrator.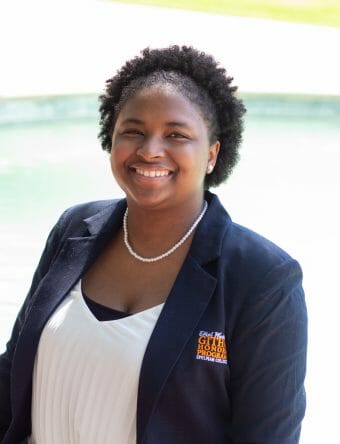 Clarissa Myrick-Harris, Ph.D., chair, Morehouse College Humanities Division
Scholar, public historian and higher education administrator Dr. Clarissa Myrick-Harris is currently Chair of the Humanities Division of Morehouse College and Professor of Africana Studies. She is also the convener of the Committee to Commemorate the Atlanta Student Movement, which has developed the Atlanta Student Movement Initiative to share the stories and lessons of student activism of the 1950s and '60s with young activists fighting against social injustices of today. This initiative includes a series of intergenerational conversations launched Fall 2020 as well as an outdoor exhibition and symposium planned for 2021. During her first tenure at Morehouse College (2012-2016), she was Dean of Humanities and Social Sciences, the first woman academic dean at the institution; and then served as Associate Provost for Pedagogical and Curricular Initiatives.  Her higher education leadership experiences also include serving as Interim Associate Provost of Strategic Academic Initiatives and Graduate Studies at Lincoln University of Missouri and Provost at Savannah State University.
Dr. Myrick-Harris was the founding Director of the Curriculum and Faculty Enhancement Program and then Interim Executive Director of the UNCF Institute for Capacity Building (2007-2012). As the National Director of the Global Issues Honors Consortium (GIHC) in the mid-2000s, she was National Director of a partnership between the University of Minnesota (UMTC) and HBCUs Dillard University and Tougaloo College to prepare students for graduate study in international affairs.  While in that role, she was also appointed Distinguished Teaching and Research Fellow in the Interdisciplinary Center for the Study of Global Change at UMTC.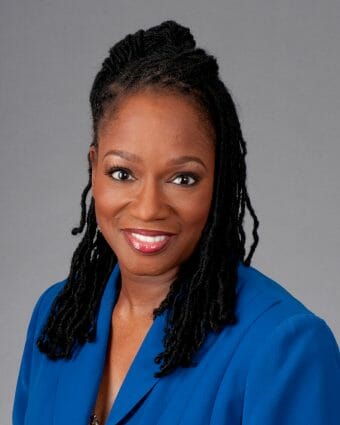 Dr. Myrick-Harris' scholarship focuses on African American leadership and institution building. Her publications include Perspectives on Exemplary Transformational Leadership Among Presidents at Historically Black Colleges and Universities, (2014); "Call the Women: The Tradition of African American Female Activism in Georgia During the Civil Rights Movement," in the book Southern Black Women in the Modern Civil Rights Movement, (2013); and "Behind the Scenes: Two Women of the Free Southern Theater," a chapter in the groundbreaking volume Women of the Civil Rights Movement: Trailblazers & Torchbearers, 1941-1965 (1995). She recently completed a historical context study for the National Park Service entitled How They Lived, (2020) which focuses on the family home of civil rights icons Martin Luther King, Jr. and Coretta Scott King and the childhood home of Maynard H. Jackson, Jr., the first black mayor of Atlanta, GA.
The educator earned a Ph.D. in American Studies (African American Studies Emphasis) from Emory University, Master's degree in News-Editorial Journalism from The Ohio State University, and B.A. degree in English from Morris Brown College.
Jenné Myers, CEO, Chicago Cares
Jenné Myers currently serves as the Chief Executive Officer of Chicago Cares. She has led her dynamic leadership team to completely reorient an established institution into a thriving, cutting-edge, emergent player in the social impact sector. Founded in 1991, Chicago Cares has been the city's premier engine for volunteer mobilization for nearly 30 years. The organization
mobilizes 20,000 volunteers annually.
Previously, Myers was appointed as first-ever Chief Service Officer for Chicago by then-Mayor Richard M. Daley to lead Chicago's participation in Cities of Service, a national civic initiative. Earlier in her career, Myers served for four years as the Executive Director of Working in the Schools (WITS). Prior to WITS, she was the assistant
to Maggie Daley, First Lady, City of Chicago and served as a member
of the advance staff for Mayor Richard M. Daley.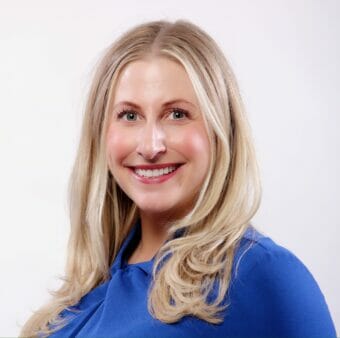 Myers currently sits on the board of Points of Light and most recently served as Chair of the Points of Light Affiliate Assembly. She is a Leadership Greater Chicago Fellow, Class of 2017, and is also a
commissioner for the Governor's Serve Illinois Commission. She received her bachelor's degree from
Michigan State University
Beverly Guy-Sheftall, Ph.D., director, Women's Research and Resource Center, Spelman College 
Beverly Guy-Sheftall is the founding director of the Women's Research and Resource Center (1981) and Anna Julia Cooper Professor of Women's Studies at Spelman College.  For many years she was a visiting professor at Emory University's Institute for Women's Studies where she taught graduate courses in Women's Studies.  At the age of sixteen, she entered Spelman College where she majored in English and minored in secondary education.  After graduating with honors, she attended Wellesley College for a fifth year of study in English.  In 1968, she entered Atlanta to pursue a master's degree in English; her thesis was entitled, "Faulkner's Treatment of Women in His Major Novels."  A year later she began her first teaching job in the Department of English at Alabama State University in Montgomery, Alabama.  In 1971 she returned to her alma mater Spelman College and joined the English Department.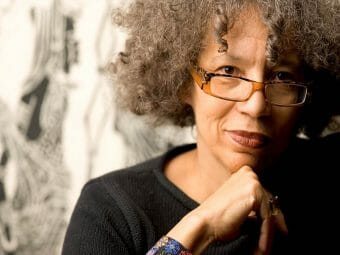 She has published a number of texts within African American and Women's Studies which have been noted as seminal works by other scholars, including the first anthology on Black women's literature, Sturdy Black Bridges:  Visions of Black Women in Literature (Doubleday, 1980), which she coedited with Roseann P. Bell and Bettye Parker Smith; her dissertation, Daughters of Sorrow:  Attitudes Toward Black Women, 1880-1920 (Carlson, 1991); Words of Fire:  An Anthology of African American Feminist Thought (New Press, 1995); an anthology she co-edited with Rudolph Byrd entitled Traps:  African American Men on Gender and Sexuality (Indiana University Press, 2001); a book coauthored with Johnnetta Betsch Cole, Gender Talk:  The Struggle for Women's Equality in African American Communities (Random House, 2003); an anthology, I Am Your Sister: Collected and Unpublished Writings of Audre Lorde, co-edited with Rudolph P. Bryd, Johnnetta B. Cole, and Guy-Sheftall (Oxford University Press, 2009); an anthology, Still Brave: The Evolution of Black Women's Studies (Feminist Press, 2010), with Stanlie James and Frances Smith Foster. Her most recent publication (SUNY Press, 2010) is an anthology co-edited with Johnnetta B. Cole, Who Should Be First:  Feminists Speak Out on the 2008 Presidential Campaign. In 1983 she became founding co-editor of Sage:  A Scholarly Journal of Black Women which was devoted exclusively to the experiences of women of African descent. She is the past president of the National Women's Studies Association (NWSA) and was recently  elected to the American Academy of Arts and Sciences (2017).
Dr. Georgianne Thomas, activist, author and educator, Clark Atlanta University 
Dr. Georgianne Thomas was a Spelman College student and foot soldier in the Atlanta Student Movement and the Committee On Appeal for Human Rights (COAHR). She went on to document the efforts of the movement's women foot soldiers as executive producer of the film Foot Soldiers: Class of 1964.  Community activism, the arts and politics have all been large components of Dr. Thomas' life.  Currently she is an Adjunct Professor at Clark Atlanta University.
She taught French in the public school system in Georgia for a number of years. Dr. Thomas has also worked with the City of Atlanta Municipal Court as a program manager assisting victims of domestic.   She is a former Mayoral Appointed Chair of the Atlanta Sister Cities Commission. In this position, Dr. Thomas was Co-Chair of the Sister Cities International, Inc. Convention, bringing the only convention to Atlanta in the 50-year history of the international organization.    She was voted a member of the National Board of Directors for Sister Cities International in 2002 to 2005 and elected to the Honorary Board of Directors for Sister Cities International, Washington, D.C. in 2006.  Dr. Thomas is also a member of Pi Delta Phi Société d'Honneur Française and the Golden Key International Honor Society.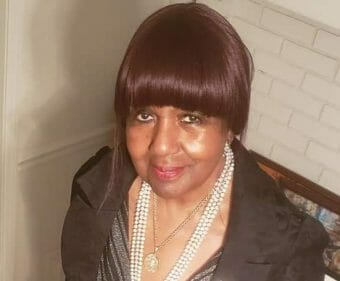 She is the founding chair of the Atlanta-Cotonou (Benin) Sister City Committee and served as the attaché for the Republic of Benin during the 1996 Olympic Games in Atlanta. Dr. Thomas has served as a Georgia delegate to the National Summit on Africa; was the former president of the Atlanta Chapter of the National Association of Media Women, and was a pioneer member of the Atlanta Association of Black Journalists (AABJ).   She is the former Chair of the Atlanta Commission on Women which develops programs to help promote women and girls issues as they relate to employment, education, sports, business, etc. Dr. Thomas has been a founder and member of numerous other organizations ranging from the Southern Christian Leadership Council, to Atlanta Neighborhood Planning Board, the African Chamber of Commerce, the National Council for Negro Women, and the Board of the Arts Exchange.
Dr. Thomas received her Doctor of Arts in the Humanities from Clark Atlanta University, her Master's in Education degree from Georgia State University, and her Bachelor of Arts degree from Spelman College.
Conversation Resources
Atlanta Student Movement
Women in Civil Rights Movement
Women in Social Movements