Heidi Magyar
Executive Director, Corporate Giving
General Motors
In November 2017 Heidi Magyar was appointed to a newly combined position at General Motors as executive director of corporate giving. In this role, Magyar oversees the integrated social impact, community relations and employee volunteerism initiatives.
Prior to this, Magyar was director of community outreach programs, leading a team that included GM's ever-growing teamGM Cares employee volunteer program, GM Student Corps and other community volunteer activities in Michigan and the U.S.
In 2013, Magyar developed and led the GM Student Corps, a unique program that partners retired GM executives and university interns with 150 Detroit-area high school students for paid summer internships.
Previously, Magyar served as chief of staff supporting GM's executive vice president of Global Product Development, Purchasing and Supply Chain. She helped to manage day-to-day operations for a global team of 30,000 people focused on vehicle programs worldwide.
Formerly she was the communications manager for the president of GM North America and other product and technology leaders. In this role, she created and implemented public speaking and media relations strategies for GM's senior executives.
Before joining the GM executive communications staff, Magyar led communications at GM's Lansing, Saginaw and Bay City manufacturing facilities, including managing plant-community partnerships. She helped launch GM's two newest assembly plants in the U.S. – Lansing Grand River Assembly and Lansing Delta Township Assembly.
She joined GM in 1997 as a communications coordinator for the former Oldsmobile divisions followed by Saturn and began her career at EDS Corp. as a customer assistance advisor for Oldsmobile.
In 2016 she was appointed as a Commissioner by the governor of Michigan to the Michigan Community Service Commission which utilizes service as a strategy to address the state's most pressing issues and empowers volunteers to strengthen communities. Magyar also serves on the Board of Points of Light an international nonprofit dedicated to engaging more people and resources in solving serious social problems through volunteerism.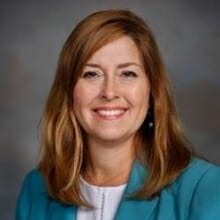 Get Involved & Light the Way