Points of Light Names Jennifer Sirangelo as New President and CEO
Sirangelo brings transformational leadership to elevate Points of Light into new chapter of global leadership of civic engagement.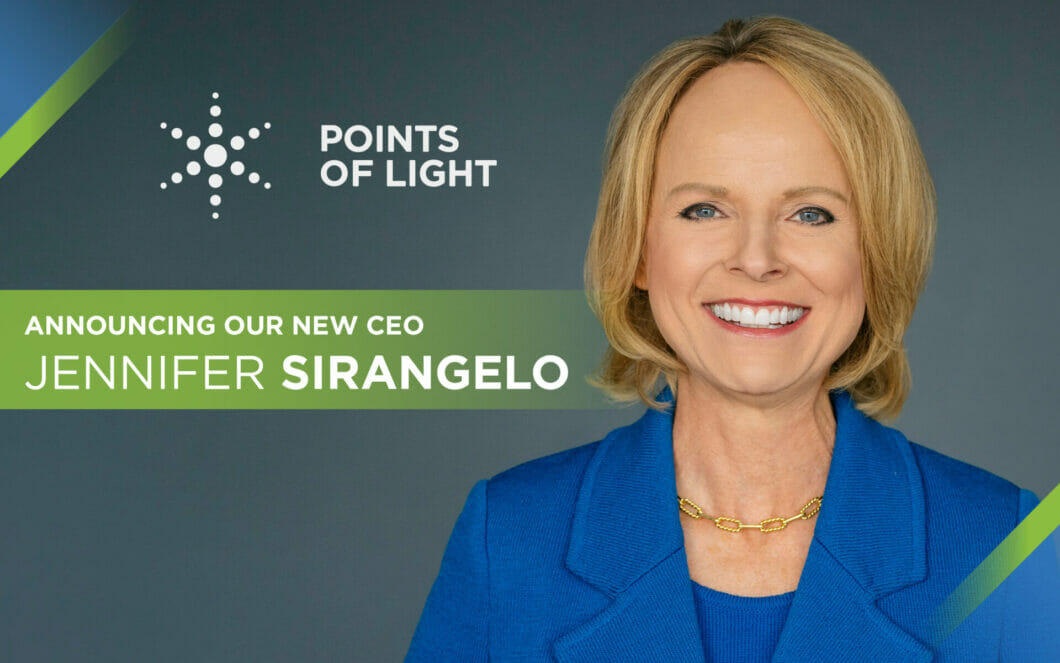 The Points of Light Board of Directors is excited to announce Jennifer Sirangelo will become the next president and CEO of the organization beginning September 5, 2023. The board has charged Sirangelo with elevating the influence and impact Points of Light has on civic health due to its belief that civic engagement and action is key to addressing complex global challenges and building vibrant communities.
A transformational leader with deep experience in leveraging fundraising, network building and relationships for mission impact, Sirangelo brings more than two decades of nonprofit experience. Most recently, Sirangelo served as an executive leader at National 4-H Council for 17 years, including nearly 10 years as President and CEO. Prior to that, she held leadership roles at Boys & Girls Clubs of America on both the national and local levels.
"On behalf of the Board of Directors, I am pleased to welcome Jennifer Sirangelo as our next president and CEO," said Neil Bush, board chair. "Jennifer is proven to be a dynamic leader who brings a wealth of strategic leadership and experience in the nonprofit sector. Her collaborative, confident and warm demeanor will lend itself to building and growing relationships with our members, partners, staff and donors to take Points of Light into the next chapter of social impact expertise. I also want to thank our search committee for their diligent and extensive search. They did an exceptional job."
"I have seen the power of civic engagement to create strong leaders, build communities and impact the lives of many," said Sirangelo. "I am excited to lead Points of Light into its next chapter, raise the organization's visibility and scale to increase our impact around the world."
Points of Light Board Members Brenda Robinson and David Williams co-chaired the executive search committee along with individuals from the Points of Light Board of Directors, including Jean Becker, Neil Bush, Vanessa Diamond, Pam Norley, Gregg Petersmeyer, and Eric Tanenblatt; as well as Michael D. Smith, chief executive officer, AmeriCorps.
"Throughout our search, we sought a candidate who could elevate Points of Light to be a global leader, grow the organization's influence and impact to new heights in these areas and more," said committee co-chairs Robinson and Williams. "While we had exceptional candidates throughout the process, Jennifer stood out with her experience, passion and vision. We are thrilled to welcome her as Points of Light's president and CEO."
Diane Quest, who has served as interim president and CEO, will continue in a leadership role with Points of Light as chief operating officer.
"The board is immensely grateful to Diane for her steadfast leadership serving as interim president and CEO over the past 8 months, keeping our organization and staff moving forward during this transition," continued Neil Bush. "Diane will continue her work as a key member of our executive team as she steps into the role chief operating officer and secretary of the board of directors."
Learn more about Jennifer here. For media inquiries contact [email protected].
###
Points of Light is a global nonprofit organization that inspires, equips and mobilizes millions of people to take action that changes the world. We envision a world in which every individual discovers the power to make a difference, creating healthy communities in vibrant, participatory societies. Through 145 affiliates across 39 countries, and in partnership with thousands of nonprofits and corporations, Points of Light engages 3.7 million volunteers in 16.7 million hours of service each year,  contributing $498.7 million of value in people power into communities around the world. We bring the power of people to bear where it's needed most. To learn more about Points of Light visit pointsoflight.org.
For All Points of Light Media Inquiries