100-lb+ Dog Duo Deliver Big Comfort to Children and Adults in Need
Meet Daily Point of Light Award honoree Jennifer O'Keefe and her two Leonbergers, Aslan and Digory. Read their story and nominate an outstanding volunteer or family as a Daily Point of Light.
As characters in C.S. Lewis's The Chronicles of Narnia, Aslan is depicted as a talking lion, a central character in the fantasy series, Digory, a professor who builds a wardrobe that serves as the portal to the fantasy world, Narnia. In real life, Leonbergers Aslan and Digory play equally regal and impactful roles as animal assisted therapy volunteers alongside their owner, Jennifer O'Keefe.
"I met these guys and fell in love at first sight. Everytime we walk into a room they make people smile," says Jennifer, a Falls Church, Virginia resident.
"You walk through a hospital and people aren't expecting to see these giant, majestic beasts walk through the hallway. It's been shown that when people are sick and stressed, animals help to decrease blood pressure, heart rate. There are physiological benefits that people receive from engaging with animals that can last up to 24 hours."
Reducing stress and raising spirits, 8-year-old, 165-pound Aslan and 5-year-old, 120-pound Digory have helped thousands of individuals they've interacted with since 2013. Through a variety of volunteer organizations, the pair have made over 800 visits around the country, says Jennifer, an emergency veteran by day who is also on the board of the Leonberger Health Foundation International.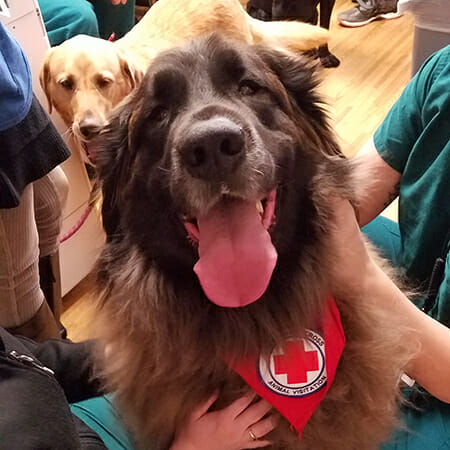 Bred to be people-oriented, the two dogs' distinctive personalities serve people in need in different ways. Digory is the flirt, says Jennifer. "He can do nothing but bat his eyelashes and give his big goofy grin. He sucks people in. You can just tell he's eating up every minute of attention he's getting." The perfect complement to his enthusiastic younger brother, Aslan is laid-back and fantastic with children, according to their dog mom.
"Aslan is so good with kids, despite his size, he has this presence that kids become comfortable with, even kids that are afraid of dogs. We met this little boy at a Wounded Warrior Project event – all the kids were playing with Aslan and this little boy was obviously afraid of him. After I told the child that Aslan was a gentle dog and wouldn't bite, five minutes later this kid is laying on him, petting him. It made my heart so happy to see him bonding with a dog that I never thought he'd come anywhere near."
Visiting hospitals, nursing homes, rehabilitation facilities, schools and libraries through People Animal's Love (PAL), that human-canine connection is one that also extends beyond ordinary situations like visiting with college students before exams or reading to children at the library. The three make wellness visits geared toward maintaining physiologic health for staff at the National Center for Missing and Exploited Children and the New York City Office of the Chief Medical Examiner.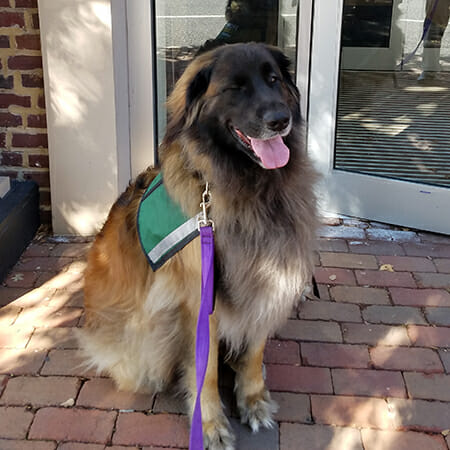 Additionally, through the American Red Cross Animal Visitation volunteer program, Jennifer, Aslan and Digory provide love and comfort to patients in military hospitals. The trio have the power to brighten the days of seriously ill children who are able to momentarily forget about their sickness, says Kim Skay, clinical research nurse for pediatric oncology patients at Walter Reed National Military Medical Center.
"Unfortunately we have to poke children with needles, we give them medicines that make them sick," Kim says. "The dogs come in and give these children a whole new positive focus. The dogs will go up to them, put their heads on their laps, get the kids on the ground. The children hug (Aslan and Digory) and forget they're a patient for awhile, they just remember they're a kid and they play with them. It's almost like (the dogs) can sense who needs it the most, and it's a trickle down effect. They come in, the parent sees the child get happy, the nurse sees the happy child, the nurse gets happy, the parent gets happy. It's just such a bonus, happy time."
When disaster strikes, Digory and Aslan can also be called upon, and are sometimes invited to deploy to crisis situations across the country through HOPE Animal-Assisted Crisis Response, responding to national emergencies including flooding, hurricanes, shootings.
"We were in West Virginia for a number of days after historic flooding. There were towns completely wiped off the map, people were killed, people lost everything. We visited FEMA and Red Cross distribution sites, providing stress and physiological healing to flood victims, disaster workers and first responders."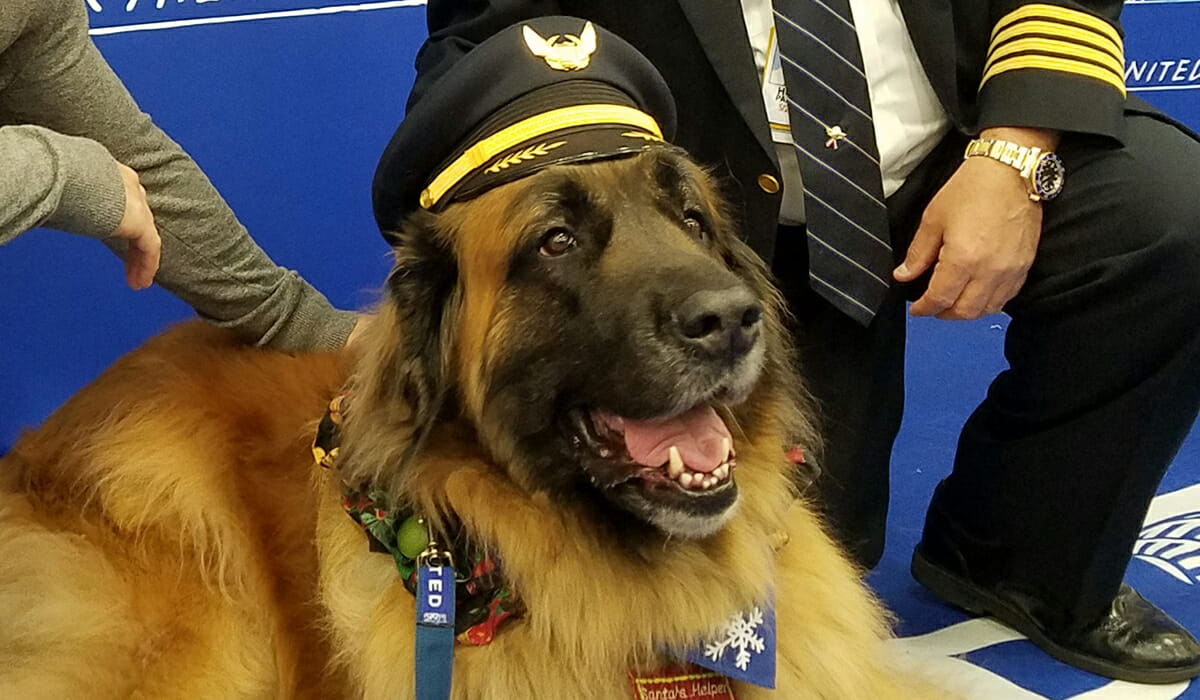 Jennifer jokes that sometimes, people are so focused on welcoming bigger than life Aslan and Digory with open arms, they don't remember her name or realize she is with them. "I'm ok with people not knowing my name. I'm an introvert. It's all about the dogs." The three are currently grounded at home due to the coronavirus pandemic, but are champing at the bit to get back to their volunteer work.
"We're all in this world together. I'm very blessed to be in a good place and to have these two dogs in my life. If I can go make someone's day better, then I'm improving the world that I live in. If we can all help each other out, the world is a better place, it just makes everything better."
Do you want to make a difference in your community like Jennifer O'Keefe and her two Leonbergers, Aslan and Digory? Find local volunteer opportunities.
Share this post