Enjoying the Dog Days of Retirement – and Sheltering During the Pandemic
Meet Daily Point of Light Award honoree Fred Rainey. Read his story and nominate an outstanding volunteer or family as a Daily Point of Light.
Fred Rainey wasn't going to let a little biting problem scare him away.
While volunteering to take care of dogs at Best Friends, a no-kill animal sanctuary in southern Utah, Fred got to know Nicholas, a scruffy little Yorkie with a penchant for chomping down on humans. "I saw this little soul there and he needed some help," Fred recalled. "I wanted to see how he'd do in a home setting." So Nicholas was invited for a sleepover and meet Byron, Fred's 10-year-old three-legged terrier mix. "The boys got along just fine, and Nicholas slowly started to trust. He's still a biter but he's slowly coming around."
A native of Ireland, Fred, 58, admits that volunteering wasn't a priority during his academic career. After earning his Ph.D. in microbiology, Fred worked at Louisiana State University and the University of Alaska Anchorage. When he decided to retire, he took a leap of faith and moved to St. George in southwest Utah, a favorite region with lots of outdoor activity options. Best Friends still wasn't on his radar. He spent time traveling and pursuing his passion for photography, settling just fine into his new life.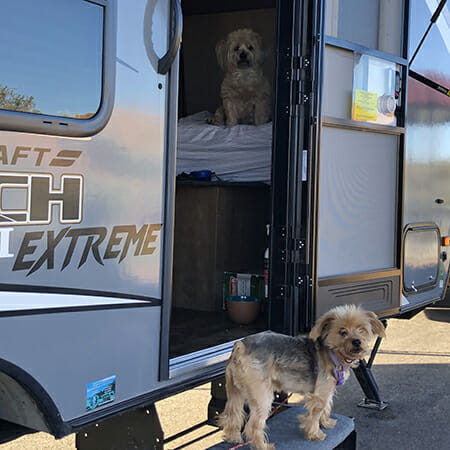 It was a Facebook event post about Strut Your Mutt at Best Friends that piqued his interest. "It sounded like fun, so Byron and I took a ride." It's a three-hour round trip between St. George and the tiny western town of Kanab and Best Friends Animal Sanctuary which sprawls over more than 4,000 glorious red rocky acres in Angel Canyon in big sky Utah. A lifesaving haven for adoptable animals, Best Friends is home to around 1600 dogs, cats, birds, goats, sheep, horses, potbellied pigs and bunnies.
What started out as a five-legged walk of curiosity for Fred and Byron became much more. He met the sanctuary's volunteer coordinator and found out there was plenty he could do to help. "I'm so thankful for that meeting. Looking back, I realize I was at loose ends with my life's direction."
Fred started making the trek every few weeks, then once a week and before too long, was traveling to Best Friends five days a week. He managed the Dogtown Trailer, a temporary holding area for dogs arriving from other shelters. "So many of those dogs were days away from euthanasia and now they are in forever homes. I am so proud of that."
But spending $500 a month on gas was not sustainable. So… a year ago Fred physically moved to be closer to Best Friends. He and Byron relocated to Kanab, a Western town of some 4,000 people – a big difference from St. George's 100,000+ metro population.
"I meet so many people from all over the world – more than 30,000 people come to Best Friends every year to tour and volunteer. " Until the pandemic. With the sanctuary now closed to the public to protect caregivers, volunteers and critters, Fred's role expanded. "Since the pandemic I became part of the contingency plan and so have been volunteering for four 10-hour shifts per week. This has allowed for social distancing of caregivers and each caregiver having limited contact with others."
Besides offering some expert advice on cleaning and sanitizing to prevent infection, he works with the same group of dogs and two caregivers daily, minimizing the chance of catching and spreading the virus. Walking, cleaning, feeding, medicating, taking the dogs to the agility course and dog park, on car outings and lots of cleaning rounds out every busy day. Before the pandemic he was also volunteering at the clinic in surgery once a week.
"The only upside to the virus is all the adoptions we've had," said Fred. Resident dogs have gone from more than 400 to under 300 and cats from more than 600 to less than 400.
"We asked a few local volunteers if they could assist – thinking maybe a few shifts here and there," explained Deb Parker, the animal area team lead and volunteer coordinator. "Fred volunteered to pitch in and now spends 40 hours a week with us since this all began in mid-March. We are so lucky to have him. Fred is an outstanding volunteer — if he sees something that needs to be done, he steps in and gets it done."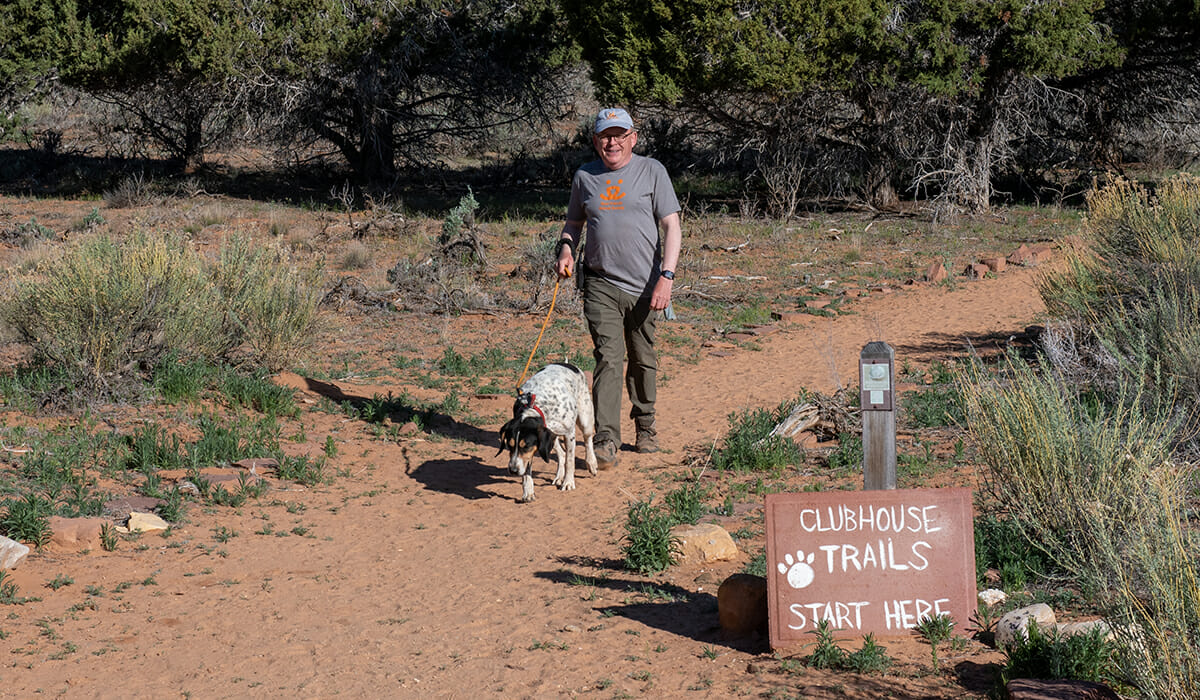 Being a lynch pin volunteer at Best Friends was never in Fred's plan. But he's grateful for it. "This is such a caring group of people focused on a measurable goal –Best Friends' campaign is to Save Them All by 2025 – to ensure that we are a no-kill nation by then. I believe it's going to happen.
"This is my way of giving back," he said. "I've had a pretty good life, traveled to great places for science and for adventure. It's important to serve because everything in the world isn't going to get fixed by government. People need to get out and do something to fix the problems. Whatever your interest – people, animals, the environment – there's a way to get involved and make a difference."
Do you want to make a difference in your community like Fred Rainey? Find local volunteer opportunities.
Share this post