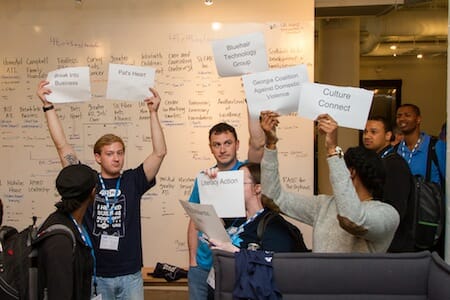 Meet Daily Point of Light Award honoree 48in48. Read the founders' story and nominate an outstanding volunteer, family or organization as a Point of Light.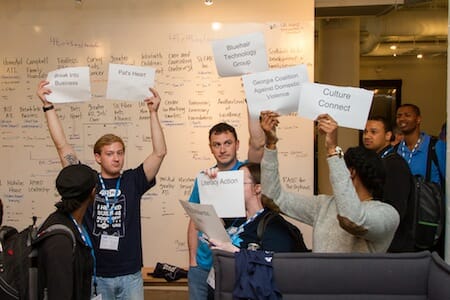 48in48 volunteers gather in their teams to get started.
As a web designer and marketer, Atlanta-based Jeff Hilimire understands the importance of standing out in the digital arena. And he knows that for some nonprofits establishing a cohesive Internet presence can be time consuming and expensive.
"One day it occurred to me that the marketing community could use their skills to help out," says Hilimire, 39. "Often, when someone wants give to back, they'll think of feeding the homeless or helping to build a house – which is great. But they might not think of drawing from their own work experience."
So, along with his friend and fellow digital marketer Adam Walker, 39, he began reaching out to an expanded network of peers throughout the city.
"What if we could build 48 websites for 48 nonprofits – in 48 hours?" they wondered. They dubbed their effort 48in48, and invited regional nonprofits to apply.
More than 100 did, and the team winnowed the applicants down to 48.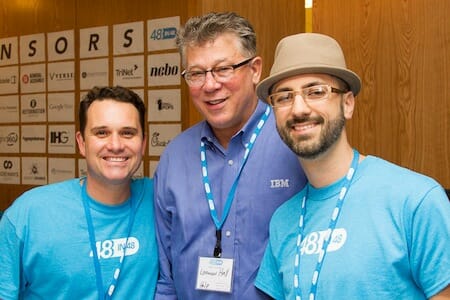 From left, 48in48 co-founder Jeff Hilimire, volunteer Lemon Hall and co-founder Adam Walker
Six months after planning started, the event was held last October. Nearly 160 digital marketing professionals – paired into teams consisting of two developers and one designer – volunteered to labored through the weekend.
After reviewing the materials submitted by the nonprofits, volunteers had just one extended phone call on Friday night with representatives from the nonprofits for whom they were designing websites. Then, they checked in again on Saturday night to update the nonprofits on the design and direction of the work.
"By Sunday morning, I was still nervous that we wouldn't be able to pull everything off," Hilimire says with a laugh. To encourage the volunteers to stay overnight, 48in48 provided sleeping bags and arranged frequent giveaways of products –including smartphones and laptops donated by sponsors such as Google and Samsung.
At the end, six nonprofit leaders judged the resulting websites, selecting three winners. The nonprofits were given the files for their new sites and were directed on the next steps toward getting them live.
In all, sponsors contributed about $150,000 in in-kind goods and services, while the value of the volunteers' combined work product exceeded $1 million, according to Hilimire.
As the effort gears up to repeat itself in Atlanta this year, as well as in three other cities yet to be announced, Hilimire has ideas on how to expand the offerings to include such assets as new logos or social media content.
Most of the volunteers have indicated that they want to return this year, Hilimire says, and sponsors have also expressed interest. "It blew us away how much just about everyone has embraced this idea," he says.
Share this post