8 Paws + 4 Hands Volunteering to Save the Planet, Indiana Family Picks Up 200K Pounds of Trash
Meet Daily Point of Light Award honorees Susan and Steve Harp and their two yellow Labrador Retrievers, EVIE and VANDY. Read their story and nominate an outstanding volunteer or family as a Daily Point of Light.
For Steve and Susan Harp, residents of Evansville, Indiana, their journey as an environmentally-conscious family started in their youth, Susan a self-described lifelong Girl Scout and Steve, a hunter. Deeply connected to nature, they realized their hometown had a problem in the late 1990s, when plots of land they cared for as part of Keep Evansville Beautiful (KEB), an organization dedicated to creating beautiful and healthy outdoor environments through citizen action, became littered with trash, says Susan.
"We had these gorgeous "Adopt a Spots" with flowers at strategic intersections. You'd go tend to the flowers at your spot and you'd find litter, and it was just disgusting. It was sad."
Wanting to get their entire community involved in protecting their city's natural assets and enhancing economic growth for the greater Evansville area, Susan and Steve decided they would impart their appreciation for nature with the youngest generation in their community. The best way to connect with youth, says Steve? Two adorable yellow Labrador Retrievers.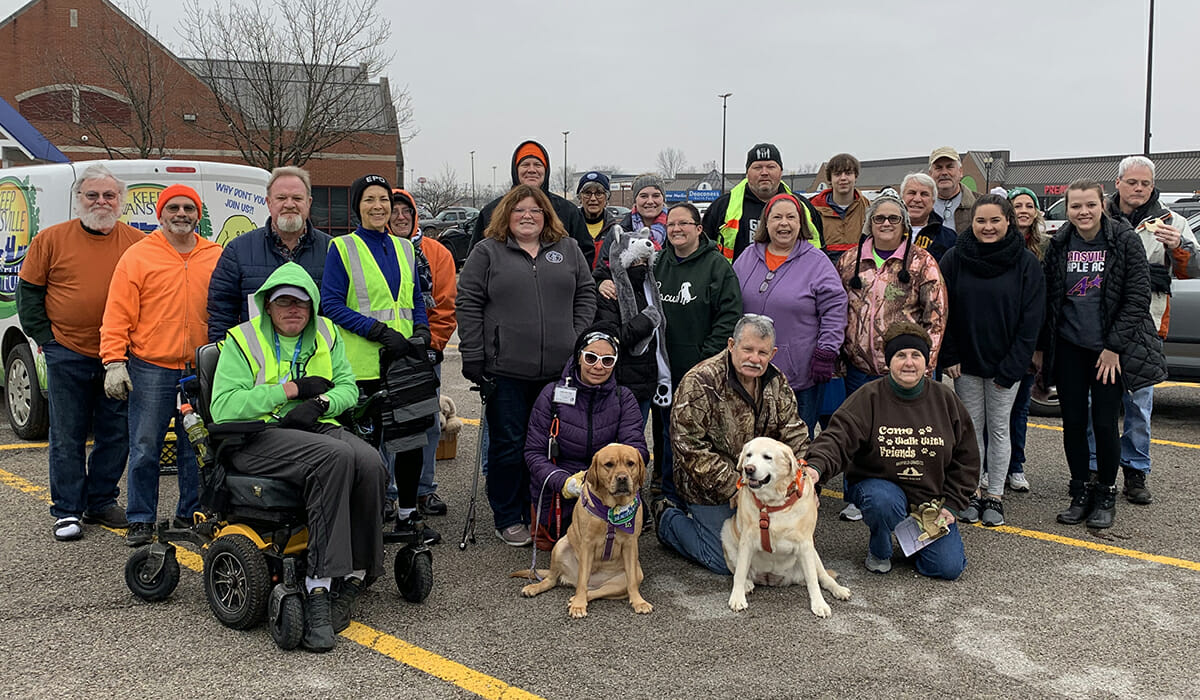 "If I was to go up to a stranger and ask them to pick up the litter they just threw down on the ground, they'd probably say no," Steve says. "Some adults don't care. But when (EVIE and VANDY) are telling you to pick up litter, through the eyes of a child, it's a lot different. This one grandmother told us that her young grandson refuses to let her leave the local mall until he's picked up trash across the entire parking lot. And it's because EVIE told him to do this."
Naming their fur babies with intention, Susan and Steve have involved their four-legged friends in their volunteerism since they were puppies, training them to retrieve litter and spreading their message of helping the environment to thousands of children and adults across Indiana and nationwide. The two Labs even serve as mascots for Keep Evansville Beautiful.
"We got EVIE SUE in 2007, her name is an acronym for "Every Volunteer Is Essential, Shape Up Evansville," says Susan. "VANDY LEE arrived in 2016, her name stands for "Volunteers Are Needed Donate Yourself, Love Earth Everyday."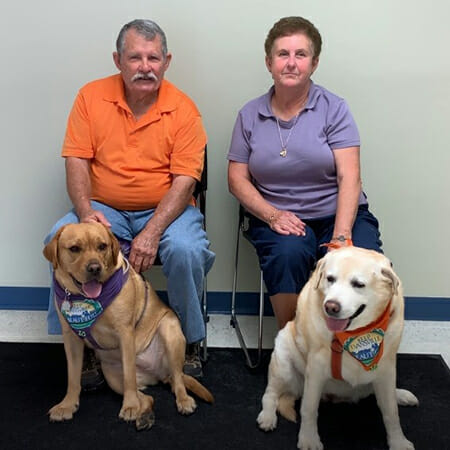 Picking up litter monthly, attending community events, going to speak with young students at local schools and traveling for Keep America Beautiful events (KEB is an affiliate of this national organization), the two Labs have become anti-litter mini-celebrities, educating people in-person, online and through books about litter and recycling. Since 2007, the two dogs have picked up about 200,000-pounds of trash alongside their owners, service that will have a lasting impact for generations to come, says KEB executive director, Julie Welch.
"They've impacted so many young children talking about littering and recycling, we've had children in high school and even beyond that still recognize and remember the dogs. They have reached well over 100,000 young children with their positive message, and the dogs are wonderful. We'll experience their lasting effect for generations to come."
Such an established part of their community, Susan says the Labs recently made a college campus visit to a student who first met EVIE when the girl was in third-grade.
"The kids in our community have grown up with EVIE. Picking up litter and protecting the environment – that's instilled in them that that's what EVIE means. EVIE the dog brings that story to life. You know there's a saying – you never follow children or dogs when you're doing a performance, because dogs just win people over. They leave paw prints. That's EVIE and VANDY."
Picking up plastic shopping bags that blow around, plastic bottles, cups from fast food restaurants and paper goods, EVIE once found an unpleasant bundle of trash as the family was volunteering at a clean-up with police. "EVIE picked up a diaper that was wadded up (laughs)," says Susan. "And it was used," says Steve. "EVIE came back back gently carrying this diaper. Nobody wanted it. We don't allow them to pick up bad stuff, we watch them. There are a lot of cigarette butts on the ground but we don't allow them to pick those up," Susan says.
When EVIE and VANDY aren't busy with their environmental volunteering, they contribute to other animal causes, including raising money as Team 02 Indiana for the Emma Zen Foundation, which provides animal oxygen masks to fire departments for pets rescued from fires. They also help the local animal control shelter in Evansville. Amidst the coronavirus pandemic, Steve and Susan are leveraging their pets' social media presence to continue sharing their mission virtually, including doing read-alongs of EVIE's books on YouTube.
While stuck at home, EVIE and VANDY continue to help out with trash pickup, occasionally finding scattered litter in the front yard or in the woods around their house, and are eager to get back to work, as are their human owners, says Susan.
"We got EVIE and VANDY to share this message. It's a worldwide problem and people need to respect the environment. People can be ticketed for littering but the only way we're going to make a difference is to change the mindset and the only way to do that is teaching our youth that it's wrong to trash the environment and make sure the earth stays healthy."
Do you want to make a difference in your community like Susan and Steve Harp and their two yellow Labrador Retrievers, EVIE and VANDY? Find local volunteer opportunities.
Share this post