Comfort Dog Spurs "Miraculous Moments" Through Volunteer Visits
Meet Daily Point of Light Award honorees Jean Dombi, Kyra Carbone and Seth the comfort dog. Read their story and nominate an outstanding volunteer or family as a Daily Point of Light.
With permission, Seth delicately placed his two front paws on the bed. Visiting a bedridden South Carolina woman suffering from Alzheimer's disease, Seth followed his handler's instruction to "rise" and greet the woman, who according to her husband of 67-years, would stare out the window for hours at a time, unresponsive and not engaging. Upon seeing the young Golden Retriever, the woman came alive, says Lutheran Church Charities (LCC) K-9 Comfort Dog Ministry volunteer Kyra Carbone.
"Her face lit up. She started talking, she was cracking jokes at her husband. He started crying, saying he hadn't seen her like this in years. He was crying, we were crying, everybody in the room was crying. Seth's face looking at this woman was precious. It was just a miraculous moment."
That miraculous moment is one of hundreds created by two-year-old Seth, a trained comfort dog who volunteers for the LCC K-9 Comfort Dog Ministry. A resident of Seneca, South Carolina, Seth lives with Kyra but by day is man's best friend to countless residents of South Carolina and beyond as he serves as a bridge for compassionate ministry. Making 227 visits in the past year to nursing homes, hospitals, schools, assisted living, hospice and special needs facilities – even being deployed out to emergency situations, Seth and his volunteer handlers use their specialized training to connect with people, says LLC K-9 Comfort Dog Ministry volunteer and Seneca, South Carolina resident, Jean Dombi.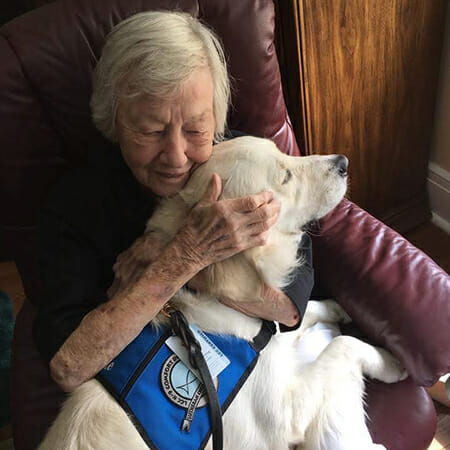 "Lap is one of the favorite commands. It's done when people are sitting down. That is the favorite because they get to hug Seth. Rise is another favorite for those stuck in a bed. He doesn't do shake (laughs) because the people Seth is interacting with might have an IV or their skin could be thin. He also doesn't lick. Some people want him to give kisses, but he is trained not to lick because that could be a health hazard."
According to Amy Howard, volunteer outreach coordinator at Providence Care Hospice in Piedmont, South Carolina, Seth, Kyra and Jane are offering quality time to hospice patients who may not have much time left.
"Seth brings a lot of comfort and joy to our hospice patients. Oftentimes hospice patients are more isolated because of their declining health. Those who once had dogs or enjoyed them still get to visit. It's magical to see. Seth is very in tuned to humans, he seems to know when to give that one-on-one attention, when to be still and quiet, when to put a paw up and when to play."
Zoning in on people who need it most, Jean says Seth's whole body relaxes when he's meeting a new person. Sometimes a smile appears on his face, other times she says, you can see the purebred communicating through cues to his handler to get closer to a person. That special connection, formed in moments of sadness, joy and everything in between, is so palpable, Jean says, that the volunteer at times feels like they are led directly to the individual in need of attention.
"Seth has been trained to obey and walk with us," says Jean. "I was once trying to get down a hallway with him, and he kept turning his head and tried to bring me down another hallway. I finally let him lead the way to this aide who had just sat down on the couch. (Seth) went over to her, he put his paws up on her lap, she put her arms around him and started crying. She had just received bad news from home and didn't know what to do, but he knew what to do. This dog had such a sense, and helped her release these emotions so she could get back to work. It was an amazing sight."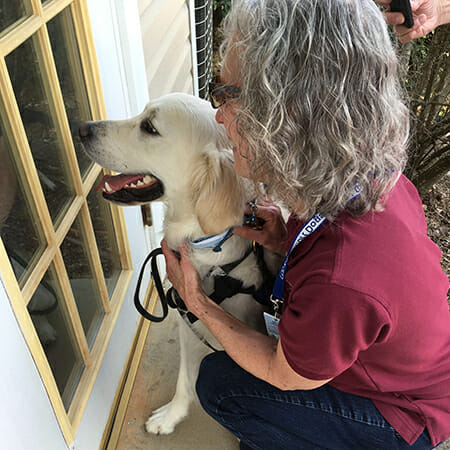 In addition to his routine visits, Seth and other LCC dogs are trained to respond to tragedies and natural disasters, says Kyra. "We had twin boys killed in a car accident, and we were asked to go visit their kindergarten classmates at school. The kids would pet Seth, talk about their friends and how much they missed them."
Seth, named for Adam and Eve's third child in the Bible, serves as a comfort to those sometimes removed from their friends, families or pets. According to Jean and Kyra, their volunteerism truly feels led by God, and their reward is the joy and comfort they are able to bring to others.
"Dogs are bridges to opening conversations," says Kyra. "Relieving stress, comforting people and opening their hearts to talk when they may not have talked before. The beauty in using (these) beautiful animals is that you're providing these happy moments for people and it brightens their day."
His volunteering is technically "work", but Kyra and Jean say Seth loves every minute of his service. Launching virtual visits in April as a result of the coronavirus pandemic, LCC K-9 Comfort Dog Ministry is still connecting through person-to-person virtual visits, but Seth is eagerly awaiting the day he is able to go back out in the field.
"He is meant to be petted. That is a reward for him as well," Kyra says. "That's what's hard now with social distancing, I can see he misses the visits terribly. I've had to give him that love at home that he would be getting out in the field. He does get rewarded by everybody and he really loves the people he sees regularly."
Do you want to make a difference in your community like Jean Dombi, Kyra Carbone and Seth? Find local volunteer opportunities.
Share this post