A Son of Memphis, Daily Point of Light Jason Farmer is Devoted to a Cause That's Close to Home — St. Jude Children's Research Hospital
On the 30th anniversary of the Daily Point of Light Award, one extraordinary volunteer is honored for his work in helping the St. Jude build relationships, raise awareness in the African-American community
Meet Jason Farmer, Daily Point of Light No. 6,656, who is receiving his award on the 30th anniversary of the very first Daily Point of Light Award – presented to The Commercial Appeal in Memphis, Tennessee, on Nov. 22, 1989. Learn more about the 30th anniversary of the Daily Point of Light Award.
He was born in Memphis, Tennessee, in 1969, the year after Dr. Martin Luther King Jr. was assassinated in the city. He grew up in the Foote Homes public housing project, hearing his mother's stories of tanks rolling through the streets in the wake of Dr. King's death.
"A lot of the men who participated in the sanitation workers' strike, they lived in that projects with us," said Jason Farmer. "So it was just one of those teachable moments. Because we would see the men come home. I would see them get hosed off outside, not understanding why they came home so dirty every day."
A teachable moment, not from a book but from life. And Jason learned it well, growing up to become a leading light of African-American support for a Memphis institution founded on the ideals of inclusion and equality — St. Jude Children's Research Hospital.
"When you talk about space and time, Dr. King was assassinated here in 1968, and St. Jude was in its infancy. I think St. Jude was five or six years old," said Jason. "And a lot of people just don't really know how critical of a role St. Jude played in helping that healing process, after the assassination of Dr. King. Sometimes it makes you wonder where we would be, if St. Jude wasn't here."
That spirit of service burns bright in Jason, most notably through St. Jude Spirit of the Dream, an annual Black History Month event celebrating the achievements of African-Americans who embody the lifesaving work of St. Jude and its founder, Danny Thomas. He helped get the event established, playing an influencer role that encouraged others to get involved. That led to a leadership role, with Jason currently serving as vice chairman for the event.
Jason has also been a St. Jude donor and supporter all of his adult life, from his days in the Marine Corps serving in operations Desert Shield and Desert Storm, to twice running in the St. Jude Memphis Half-Marathon — one of the races in the hospital's largest single-day fundraiser. He's also volunteered at the annual Memphis PGA Tour event benefiting St. Jude.
"It's a noble mission," Jason said, evoking Danny Thomas's belief that no child should die in the dawn of life. "It's a doable mission."
But this is more than a story of a generous Memphian supporting a worthy institution. Jason's bond with St. Jude is deep, and personal. St. Jude opened in 1962 as the first fully integrated children's hospital in the South. The original star-shaped hospital building was designed by an African-American architect. There weren't just African-American patients being treated in the same rooms as white patients, but African-American researchers, doctors and nurses working alongside white colleagues.
And in the years following Dr. King's assassination, one of St. Jude's first African-American physicians, Dr. Rudolph Jackson, helped develop a hospital program to provide nutritional assistance and address common health problems in low-income households.
The program served as a prototype for WIC, the federal initiative for women, infants and children, and thousands of local families were enrolled — including the Farmers, who lived about two miles from the hospital.
Jason's devotion to St. Jude? "I think the seed was planted early," he said. "We always understood."
In June 2018, while Jason was in a St. Jude-related meeting, he received a text that a young relative had been diagnosed with lymphoma and would be treated at St. Jude. By August, he said, the cancer had spread so rapidly the family was told to "prepare for her not being here."
"But between August and Christmas, they really got it under control," he said. "I think she was cleared by the spring of 2019. She returned to school this fall."
Suddenly, the nearly 50-year bond between St. Jude and Jason Farmer was stronger than ever. And his desire to give back is growing, still. As the founder and CEO of a Memphis-based film production company, and with a son in film school, he envisions a film series that would raise awareness for the hospital.
"My family is greatly indebted for the things St. Jude has done for us over the years," he said. "It doesn't even really feel like volunteering. It's just what we're supposed to do."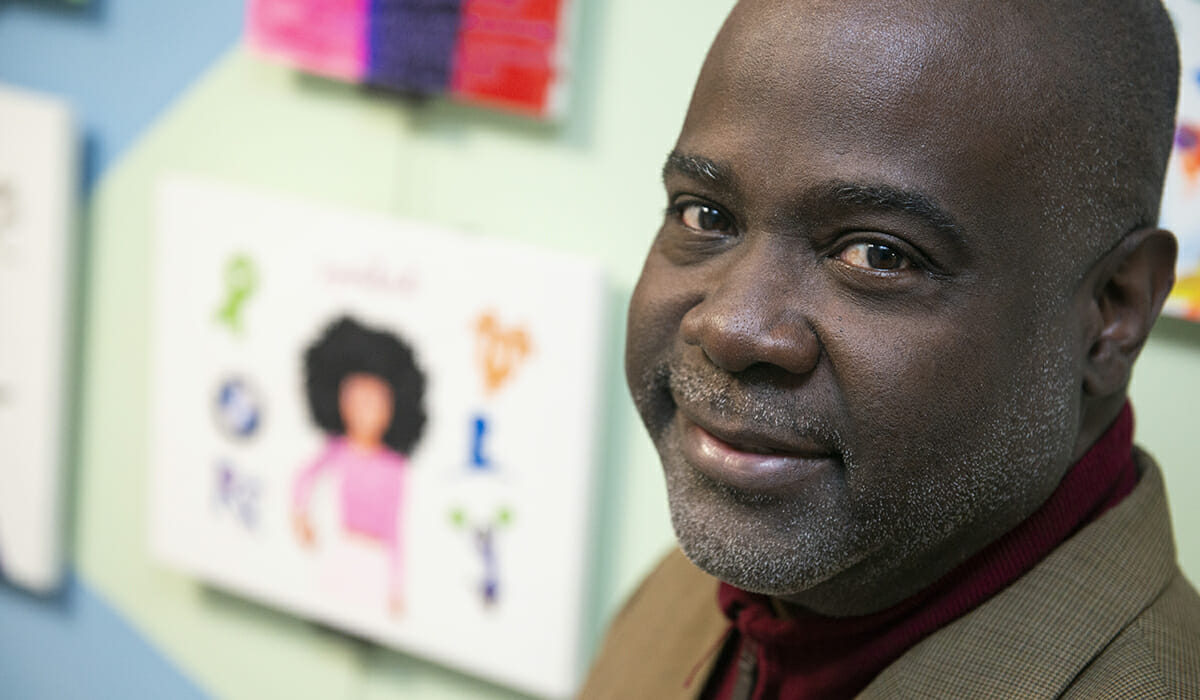 The Difference He Makes
From the beginning in 1962, St. Jude Children's Research Hospital's focus on treatment and research of catastrophic children's diseases had a happy byproduct: it helped cure social ills, too, by welcoming children and employees of all races.
Jason Farmer's volunteer work for St. Jude shines a light on that history — and reminds people that those same ideals are alive today, that St. Jude remains a place where children are treated, regardless of race, religion or a family's economic station.
He says St. Jude Spirit of the Dream is designed to remind people that, "St. Jude is here, it's real and it's relevant in our community." For those who might have forgotten, he wants to reignite the flame.
"With Spirit of the Dream, we have an opportunity to really drive home in the minority communities how important St. Jude is to the fabric of the city," said Jason.
Verushka Wilson, who works with St. Jude Spirit of the Dream in her role as senior specialist at ALSAC, the fundraising and awareness organization of St. Jude, says Jason has been crucial to the cause.
"As we looked to expand our presence in the Memphis African-American community, it was important to connect with the right influencers," she said. "From the beginning, Jason was one of them."
Do you want to make a difference in your community, like Jason? Find local volunteer opportunities.
David Williams is the lead writer on the enterprise content team at St. Jude Children's Research Hospital. A version of this story also appears on St. Jude Inspire.
Share this post