Thankful Texas Family Volunteers to Feed Bodies and Souls Across Homeless Community
Meet Daily Point of Light Award honorees, the Aguirre family. Read their story and nominate an outstanding volunteer or family as a Daily Point of Light.
Rick Aguirre and his daughter Emily were out running errands on a cold and rainy Saturday morning five years ago, when a man walked in front of Rick's truck. When Emily, then 6 years old, asked her father who the stranger was, Rick explained that he was homeless. The McAllen, Texas, father was then bombarded with questions from his youngest daughter.
"Emily started asking, 'what does homeless mean?' I explained to her it meant that he didn't have a house, and that he lived on the street," Rick said. "She started asking me all these questions about how he lived, where he was going to eat his food, what else he was going to do. I'm usually a person that has answers to everything, but that one kind of floored me."
Instead of moving on with their day, the McAllen, Texas, family took action. Rick bought the man food and a cup of coffee at a local restaurant that morning, and then they decided their family's service wouldn't end there. The Aguirre family committed to feeding a homeless person every day for the 40 days leading up to Easter in place of giving something up for Lent. And they never stopped.
Launching Emily's Meals in 2015, the Aguirres began to feed homeless individuals in their southern Texas community, preparing meals in their own home and delivering them to people in need. The momentum from their act of service grew steadily across their family, friends and networks, eventually becoming a large group of volunteers who prepare and distribute 40-50 meals to homeless individuals each day, with more than 10,000 meals served annually.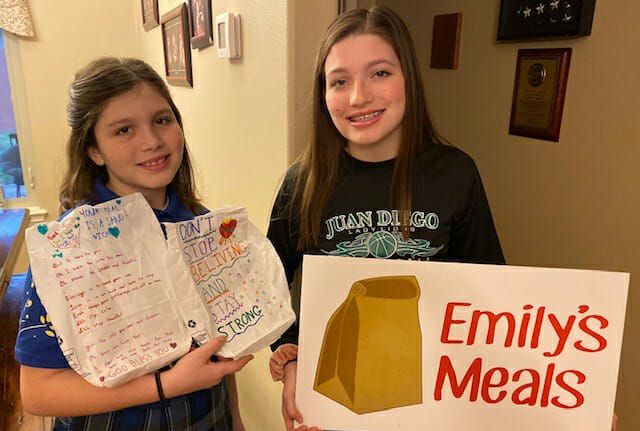 The meals include one main dish like a sandwich, spaghetti, lasagna or hamburgers, and additional snacks that sustain the individual throughout the day, all delivered with an accompanying blessing card, which are created by various community groups. Providing nourishment for their bodies and souls, sometimes, mom Coni Aguirre says, a person just needs a quick prayer and sometimes, the meal turns into something more lasting.
"As parents, you want to raise your children to see the needs around you, and teach them how to meet those needs," Coni said. "When this experience first happened, we thought we were just doing this for Lent, but after the 40 days, the conversation with these people went from, 'hey, are you hungry?' to a real friendship. After 40 days, we just couldn't stop. It's our family's mission and other families' mission as well."
Learning the names, the stories, needs, hopes and fears of the people they serve, the Aguirre family has led their community in extending a hand to their neighbors in need, promoting empathy and understanding and raising awareness of a population that oftentimes feels invisible, according to Sandra Martinez, an Emily's Meals volunteer and Aguirre family friend.
"We didn't know there were homeless in the valley. You see a few people, but it's just not a big part of our culture. We're Hispanics, we're Catholics, we have big families and if you need something, somebody is going to take you in," said Sandra. "When you see something outside of the norm and you start to question how or why that could happen, it really makes you start to think about your own life and your own family."
Providing bus tickets to an abused homeless mom and her children, hosting seasonal picnics, offering personal hygiene and healthcare services and continuing to facilitate assistance as individuals seek help and get off the streets – sometimes even reconciling with family – are all ways in which Emily's Meals has gone beyond food to provide help and hope for people who often have no one else to turn to, says the Aguirre's oldest daughter, 15-year-old Erika.
"Before, I thought, it's just a meal and everybody eats together as a family. Everybody has someplace to go and eat," Erika said. "After I realized that there are people that go days without eating, or that some people haven't spoken to their family in years, it opened my eyes, and I'm so thankful."
Because of their amazing work, the Aguirre family was recently named the very first Disney and Points of Light Volunteer Family of the Year, and were surprised on Good Morning America with a trip to Walt Disney World and a $10,000 grant to continue the amazing work they're doing in their community.
And as this Texas family prepares for their own Thanksgiving meal, their volunteerism shines brightly and their impact is being felt deeply across the community as the namesake for the organization, 11-year-old Emily, continues to ask questions on behalf of this vulnerable population.
"If I were to put myself in their shoes, I would think, 'why are these people helping me? Out of all these people, why me?'" Emily said. "It's important to help them because they're still our brothers and sisters in God's eyes. Because of us, they're not going to go hungry that day."
Do you want to make a difference in your community like the Aguirre family? Find local volunteer opportunities.
Share this post