Texas Teen serves overseas children in need by starting her own nonprofit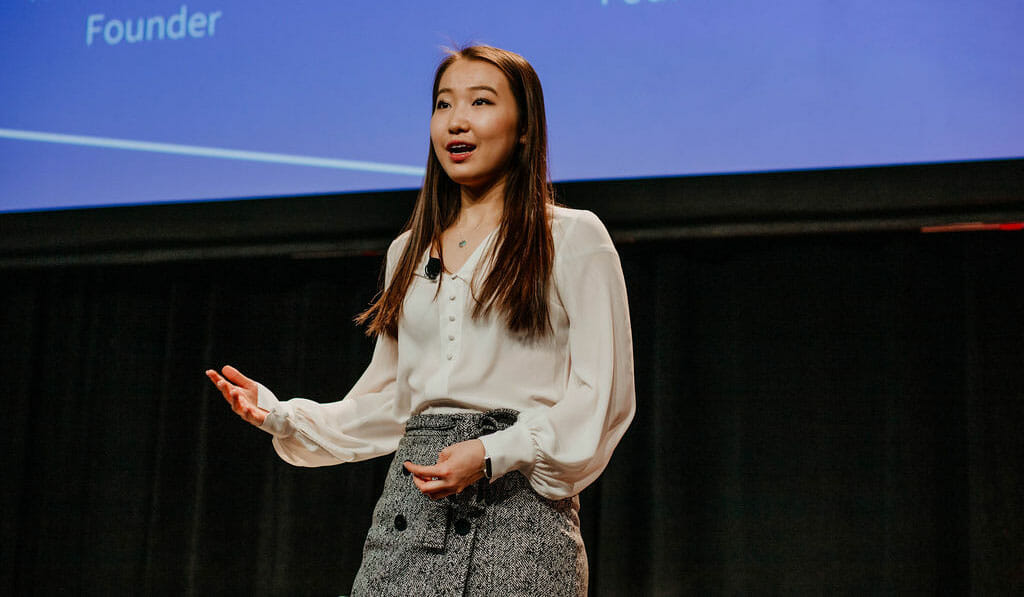 Meet Daily Point of Light Award honoree Melissa Khasbagan. Read her story and nominate an outstanding volunteer or family as a Daily Point of Light.
Melissa Khasbagan was 13 years old when she visited rural inner Mongolia with her parents. Her visit to the country opened her eyes to the lack of resources for the local children to learn the English language. Upon her return to the United States, Melissa set a goal of collecting 1000 books for  the children back in Mongolia. Seeing the impact of her work and the opportunity to do so much more, the Texas teen officially established her nonprofit organization, 1000 Books For, in order to continue doing her service work long term. The organization helps provide education and resources to students, not only in Mongolia, but in other developing countries as well. Melissa is able to source these books through donations and book drives.
As of today, her youth-led organization is operating in 8 countries and impacting over 35,00 students. 1000 Book For is also working with 400 teachers worldwide and collaborating with teachers from Austin, Texas to develop an audio curriculum aimed at improving comprehension skills. Melissa's hard work has garnered her numerous accolades and recognitions, such as the 2019 Global Teen Honoree, Princeton Prize, and the Gloria Barron Prize. In addition to this, she is a TEDx@Redmond, SXSW EDU, and LearnFestATX speaker, promoting education and diversity equity in youth.
Melissa is also the creator of "The Teen Entrepreneur Podcast", where she interviews teen entrepreneurs and empowers youth to change the world for the better. The eighteen-year-old firmly believes that entrepreneurship and education is the pathway to achieving equal opportunity.
What inspires you to volunteer?
Five years ago, after visiting my cousin, Sorgog in Inner Mongolia, I noticed a discrepancy in our day-to-day life and education. In America I had world-class teachers and resources, but Sorgog and her classmates at Xilinhot Mongolian Middle School attended schools with few textbooks. I admired Sorgog's resilience in making the most of her situation, but I had to do something to find a way to bring much needed programs to her and her community.
As a way of sharing what I love (novels) and what my cousins were missing (English teaching materials), I made a goal of providing one thousand English books for Mongolian students (five years ago).
Describe your volunteer role.
I am the Founder/President of 1000 Books For. With an emphasis on sustainability, we've collected 30,000 books, work in 9 countries, with 400 teachers, and impact 35,000 students. We've received supply donations worth over $75,000. Our ambassador program has grown to over twenty members from three continents. Through our English education projects (including book drives and workshops) across US, Mongolia, China, India, Tajikistan, Uzbekistan, Mexico, and Russia, we've set up libraries in orphanages in Ulaanbaatar, Mongolia and New Delhi. Our efforts in Mongolia have been commended by the Mongolian government.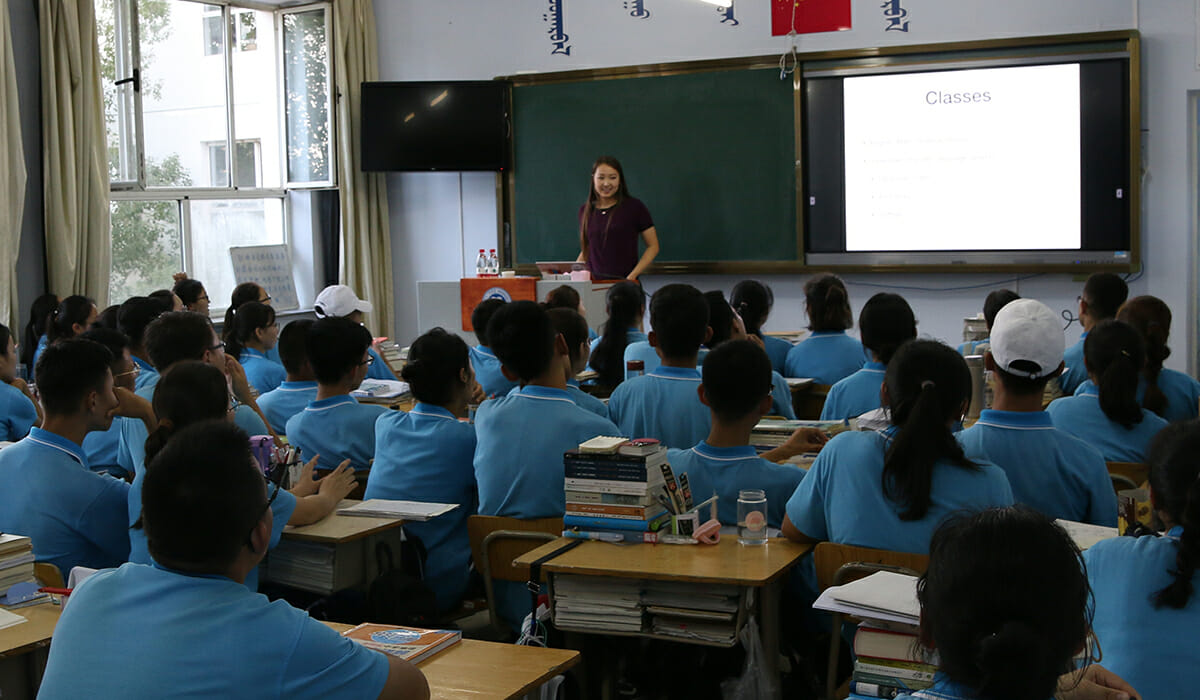 What has been the most rewarding part of your work?
My most memorable 1000 Books For initiative was creating the first-ever, community-organized conference in Liberia: the 2019 Global Youth Changemakers Summit. I developed skills in fundraising to finance the entire conference, selecting applicants myself, crafting a curriculum, and teaching social entrepreneurship to our 160+ West African attendees. After getting Founders Bootcamp to sponsor the conference and getting exposure from 12 Liberian media outlets, the event was free for our attendees.
The most rewarding part was learning. After speaking to conference attendees, I corrected my previously misinformed stereotypes about Africa. I witnessed my new friends turn into ambassadors of change, brainstorming solutions to implement in their communities. For example, one attendee Robert was inspired to create his own summit, held winter 2019.
What have you learned through your experiences as a volunteer?
The first time I pitched to potential partners, my hands trembled and voice stuttered as I cried on stage. But I learned that it's okay to fail, treating each speaking engagement as a chance to grow. I've since become a youth entrepreneurship and equity advocate: giving a TEDx talk in Seattle, speaking at one of the most significant innovation conferences: SXSW and SXSW EDU, and presenting to educators at the LearnFestATX Conference.
Are there any future partnerships, programs, or events that you are excited about?
Within the next year, my biggest goal is to expand our #Project195 Initiative, a mentorship toolkit to teach youth entrepreneurship from all 195 countries. With partnerships with international organizations like the Diamond Challenge and Work for Life on curriculum development, I plan to create a consolidated community online for youth to network and access change-making materials (videos, worksheets, and podcasts).
In 2020, we're partnering with a youth-led for Detroit youth to hold a conference there. And we'll be in 9 countries in Africa, starting with Liberia and Ghana. Our partnerships with African universities and schools have helped to empower youth through entrepreneurship.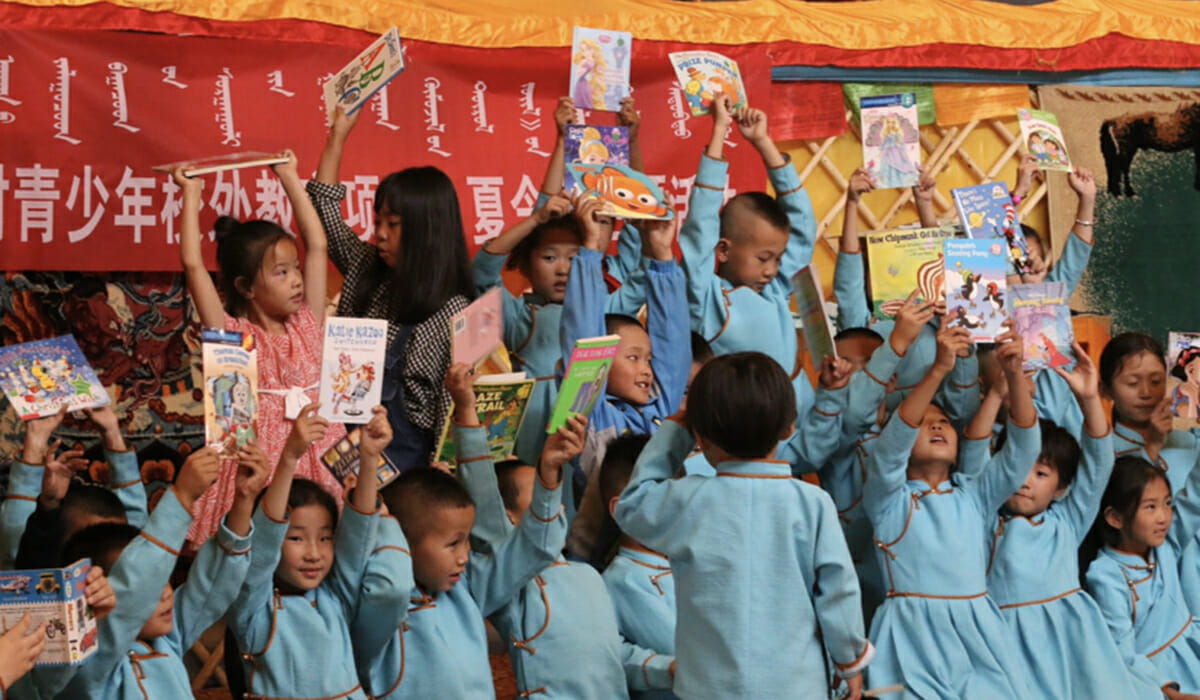 Why do you think it's important for others to give back? 
I believe that it's important for people to create the world they want to live in. People have the power to create change, so the next time you see something that is not what you stand for, make the change. Find solutions for things that need to be solved in your community.
What do you want people to learn from your story?
I want youth to know that they can make an impact. Your socioeconomic status or cultural background does not determine where you will be in life. Work together to find solutions for problems to solve in your community.
Do you want to make a difference in your community like Melissa? Find local volunteer opportunities.
Share this post