"Accidental" Volunteer Spends 25 Years Sharing Knowledge and Building Community at Presidential Library
Meet Daily Point of Light Award honoree Janet Goebert. Read her story and nominate an outstanding volunteer or family as a Daily Point of Light.
In the mid-90s, Janet Goebert, or as most people know her, Jan, picked up a call from a couple of friends going on a trip to the groundbreaking of the George Bush Presidential Library. They had an extra seat. Would she like to go? 
Thinking of it only as a fun event for the day, Jan said yes. Shortly after, another friend reached out about going back as a volunteer, and the rest is history. Before his passing earlier this year, both Jan and her husband John, a retired engineer, volunteered together at the library. Since she signed up in July of 1997, Jan has worked over 5,700 hours! 
What inspires you to volunteer?
I was a full-time mom. I had four daughters right away after I got married. When they were older, after my husband and I moved to Texas, volunteering was just something fun to do. I had worked with the Heart Association and the Cancer Association on sending out invitations for lunches and things like that. Just little things that were interesting. But this was the best thing that ever happened. It's just fun. 
Describe your volunteer role with the George Bush Presidential Library.
We greet people at the door, start films, take tickets and pictures, etc. Somebody will hand me their camera, and I will take a picture of them with whatever special guest is there. We've had Supreme Court justices, sports people and many more. I help out wherever I'm needed at events, too. 
John and I also volunteered over at the Bush Foundation opening mail. That's where the Bushes had their apartment. We both got to go to the apartment to separate Barbara's books in her personal library. She had so many and wanted us to sort out some children's books she could donate. Authors would send signed copies of new books they had out, so she had stacks and stacks of them.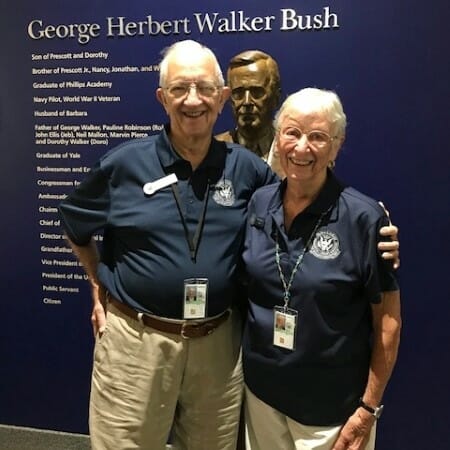 What's been the best or most rewarding part of your work?
It's meeting so many people from all over the world. You never know who's going to come in. A lot of people come to College Station just to see the library. They sometimes will have one person who speaks English with them, but sometimes they don't. We always figure it out pretty well. It's just a nice place to volunteer. And I learn all the time. Somebody will ask me a question that I don't know the answer to, so I pick up more information when I figure it out. 
Are there any guests that were particularly memorable?
A lot. I saw Mikhail Gorbachev. I didn't meet him, but I met his secret service. He came into the library one day I was working. A lot of the Secret Service were fun. I would meet some guests personally, but often I would meet whoever was surrounding them, like the Texas Rangers who were with the Supreme Court Justice who came in to do research in the archives. 
When the Bushes were up at the library a lot, I met most of the family. President Bush used to ride around the A&M campus on those motorized scooters, the things you stand on with one foot, with a single agent. His Secret Service agents would always have lunch catered to the library and sit around telling us stories. 
Are there any future partnerships, programs, or events that you are excited about?
They're just getting back into having events they had to cancel during the worst of COVID. They did do the annual Easter Egg Roll this year. It's so much fun. They also usually have Fourth of July fireworks but not this year. The museum and library were free all day, though. 
There's an author speaking this month who has a book on President Kennedy. I have so many signed books because I go to these events. When Laura Bush had her book out, she came up for a book signing and had a private event at the library in the rotunda before she spoke. She was very gracious. She made sure the caterers fed us, too. We were just pouring wine. 
Why do you think it's important for others to volunteer?  
A couple of times, my husband really thought he would give it up, and I told him I wasn't going to. I think he only took off a couple of weeks and then he said he was coming back. We did everything together. That was another thing that made it so fun and so easy. I volunteer because I like it. People wouldn't be there if they didn't enjoy it. I've made a lot of new friends, and I feel very lucky. 
Do you want to make a difference in your community like Janet? Find local volunteer opportunities. 
Share this post