Nonagenarian Joyfully Volunteers to Spotlight President George H.W. Bush's Legacy
Meet Daily Point of Light Award honoree Glinn White. Read his story and nominate an outstanding volunteer or family as a Daily Point of Light. 
Glinn White has been at the George Bush Presidential Library and Museum since the beginning — the Bryan, Texas resident starting his volunteerism in 1997 before its grand opening.  
Glinn, now 90 –years old, has since served more than 4,600 hours at the museum, helping to support its mission to preserve and make available the records and artifacts of George H. W. Bush, the 41st president of the United States. Glinn says he enjoyed President Bush and his time in office, and so when the library opened at his beloved Texas A&M University, it was an opportunity for the retiree to give back to his community and build new friendships.  
What inspires you to volunteer?
I enjoy seeing the people come in and try to make their visit a special occasion if I can help in any way. I enjoy reading the material as well; I forget so much these days it's new learning every time I go in. 
Describe your volunteerism with the George Bush Presidential Library and Museum.
The library and museum promotes civic literacy and increased historical understanding of our national experience, and fosters a community of public service and volunteerism. I welcome visitors, introduce the orientation film, give out maps and answer visitor questions in the Oval Office, and also take their photos if they ask. In addition to my weekly shift, I've also helped with many special events including the Annual Easter Celebration and the I Love America 4th of July Celebration. I've got more event t-shirts than I can wear. I enjoy greeting and telling visitors what to expect in the museum.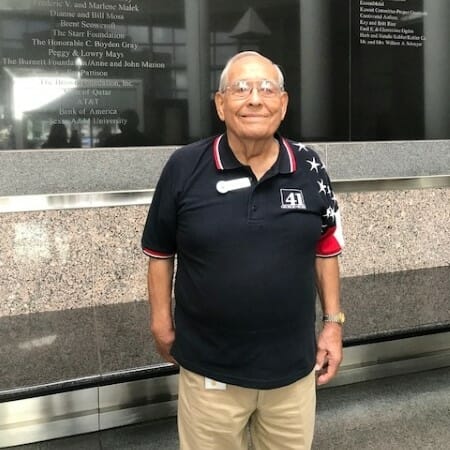 Share one personal story with me from your volunteerism. 
Before the library opened were my happiest days. My wife had just passed away, and volunteering gave me an opportunity to do some things that were useful and beneficial to the center and to me. I repaired some items that had been damaged during delivery, and built and painted some items for the museum including many display cases using my woodworking and repairing skills. I made a raiser for a model submarine to sit on and when a carrier model came in, the antenna radar ray was broken so I repaired it and put it back on the ship.  
Why do you think it's important for others to get involved?
I've been so blessed that I think I ought to give something back.  
What's been the most rewarding part of your service? 
It's rewarding being able to continue volunteering. A lot of people have had to quit because of health reasons and I've been blessed that I've been able to do it all these years. I just take volunteering one day at a time and I'm grateful for that. If I'm lucky enough to be there at 100 then I'll do it.  
In one word, what does volunteering mean to you?
One word. That's difficult! Joy. Just the joy of volunteering.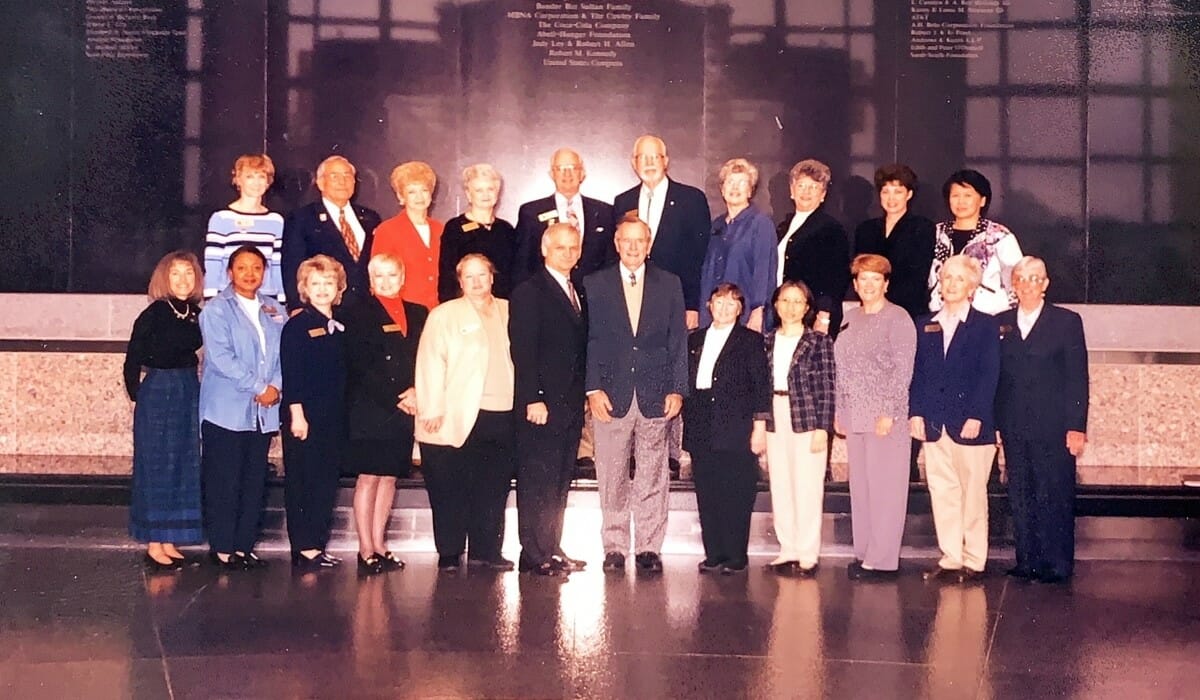 What do you want people to learn from your story?
You have to take joy in volunteering. It makes life more meaningful when you can do something to help somebody.  
What's your favorite part of the museum?
The World War II section is my favorite part of the museum. President Bush served and was also a part of the rescue effort. On a personal note, I served in the Army artillery myself, I was an officer when I finished school at Texas A&M University. I repaired and built some things in the museum's WWII section to prepare it for the grand opening.  
How can readers help?
Please visit the George Bush Presidential Library and Museum website for more information about how you can give back.  
Do you want to make a difference in your community like Glinn White? Find local volunteer opportunities. 
Share this post