Senior Volunteers Nearly 4,000 Hours to Promote Civic Literacy at Bush Presidential Library
Meet Daily Point of Light Award honoree Joan Ledwig. Read her story and nominate an outstanding volunteer or family as a Daily Point of Light. 
Joan Ledwig was walking through the Texas A&M University campus with her husband when they spotted a sign asking for volunteers for the George Bush Presidential Library and Museum.  
Signing up to volunteer with her husband in 1997, the two began to catalog artifacts for the museum. Joan fondly remembers this time with her husband, who has since passed, saying it was the first time the two College Station, Texas residents had served together. More than 3,800 volunteer hours later, Joan says the Bush Library has become a part of her life, as she helps to support its mission to preserve and make available the records and artifacts of former President George H. W. Bush. 
What inspires you to volunteer?
It's the people you work with that inspires me. You get fond of everybody you serve with and we do things together. Volunteering just makes you feel good.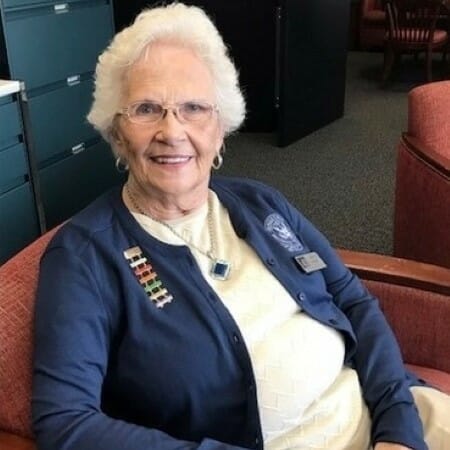 Describe your volunteerism with the George Bush Presidential Library and Museum. 
I volunteer every Tuesday afternoon in the museum. We welcome and visit with the people coming in and answer their questions. I also introduce the orientation film, give out maps and take pictures in the Oval Office. I assisted with the grand opening of the museum, and I've helped with many special events including the Annual Easter Celebration and the I Love America July 4th Celebration. In addition to my volunteerism at the museum, I have volunteered at a local hospice.
Share one personal story with me from your volunteerism. 
There was a gentleman who came in the other day, he told me, 'You know, you girls, you do so much here.' That felt kind of good. Sometimes we might receive a letter of gratitude. Volunteering is a calling. I need to use a cane and live in a senior apartment, but when I come in on Tuesday and I see the people, I really am proud I have my Bush shirt on. 
Why do you think it's important for others to volunteer?
There are so many needs. I just really think everybody should do something they feel they could do. I remember when President George H. W. Bush first discussed "points of light" – I was so pleased by him saying that and starting the Points of Light organization. My service isn't near what some volunteers have done. Their volunteerism inspires me to do more. 
What's been the most rewarding part of your service? 
My husband and I would go to many different events put on at the library. Seeing the Bush family (at these events), always so gentle and sweet, it was very rewarding to see the family and know what they did. President Bush sent a personal letter to me when my husband passed.  
What would your husband think about all your years of volunteerism?
He'd tell me I'm doing a good job and he'd be there with me (volunteering). We were married 62 years. One time, a lot of people were quitting volunteering. I asked my husband, do you want to quit? He said, 'Goodness no! I love this.' And he always met somebody that knew somebody that he knew.  
In two words, what does volunteering mean to you?
Worthwhile. Pleasant.  
How can readers help?
Please visit the George Bush Presidential Library and Museum website for more information about how you can give back.  
Do you want to make a difference in your community like Joan Ledwig? Find local volunteer opportunities. 
Share this post