Advocating for Marginalized Communities; Teen Volunteer Plays Soccer to Welcome Refugees
Meet Daily Point of Light Award honoree Zayd Ali. Read his story and nominate an outstanding volunteer or family as a Daily Point of Light.
A love for soccer has been passed down from generation to generation in Zayd Ali's family. But his passion for the game took on new meaning after one fateful conversation with a New York City taxi driver, broadening Zayd's perspective on the power of the game.
"I was visiting my sister in college, wearing a Manchester United jersey. This taxi driver told us he'd lost his parents at a very young age, and as a result, had lost his faith in the religion his parents had brought him up to believe. Several years later when this man found soccer, it was the only thing that gave him peace. We started talking about our favorite players. (This man) said he believed Ronaldinho (former professional soccer player) to be a higher entity because of the power he had and what he could do with a ball. He said that anything (Ronaldinho) did, he did it with a smile, and you had a smile on your face whenever you were watching him."
18-year-old Zayd says the conversation made him realize that if his beloved soccer could have such an impact on one person, there was the potential for even greater impact if he harnessed the sport to bring people together. Launching OnSide in 2016 as an 8th grader, the now recent Washington, D.C. high school graduate is building bridges between people across racial, religious and socioeconomic divides through a shared love for soccer, focusing his support on the vulnerable refugee population in the U.S.
"I've visited 32 countries. In each country, I could find someone watching, playing or talking about soccer. Soccer is the one commonality between the refugee demographic and kids that have lived in the U.S. all their lives. There are so many things that can separate us, including culture, language, religion, our skin color in some cases. These many things have the potential to separate one group from another. Nothing else has the universal connectedness of soccer."
Helping often isolated refugees to feel more comfortable in their new homes in the Washington D.C. area, Zayd's volunteerism supports kids aged 6-18 from countries including Ethiopia, Syria, Afghanistan and more to forge friendships, leveraging soccer as a tool for education and diplomacy. "Once you see you have soccer in common," says Zayd, "everything else becomes that much easier for a friendship."
Partnering with a number of organizations across D.C., including L.A.C.E.S, One Journey Festival and the International Rescue Committee to facilitate year-round activities and also participate in summer soccer camps, OnSide has organized soccer scrimmages, clinics, a tournament and outings to a professional soccer game for refugee kids. A fashion activism clothing line called OnSide Design provides critical fundraising. According to OnSide Vice President Alexander Sundberg, Zayd's volunteerism makes refugee youth, who have often had to flee their homes, families and friends, feel welcome in their new communities.
"Zayd is an incredibly outgoing, heartwarming and genuine individual who has an unmatched ability to help kids feel safe and engaged in whatever is going on. He has a really amazing impact on these kids, allowing them to take the first hard step in feeling welcome and safe. (Zayd) makes all these kids want to participate, to have fun and be a part of the community. That's what a lot of them haven't been able to do beforehand and with Zayd's help, are now able to do."
That impact is helping young refugees to connect with others and adapt to their new surroundings, where even a few days of inclusive activities can change their perspective and future path in America, says Zayd.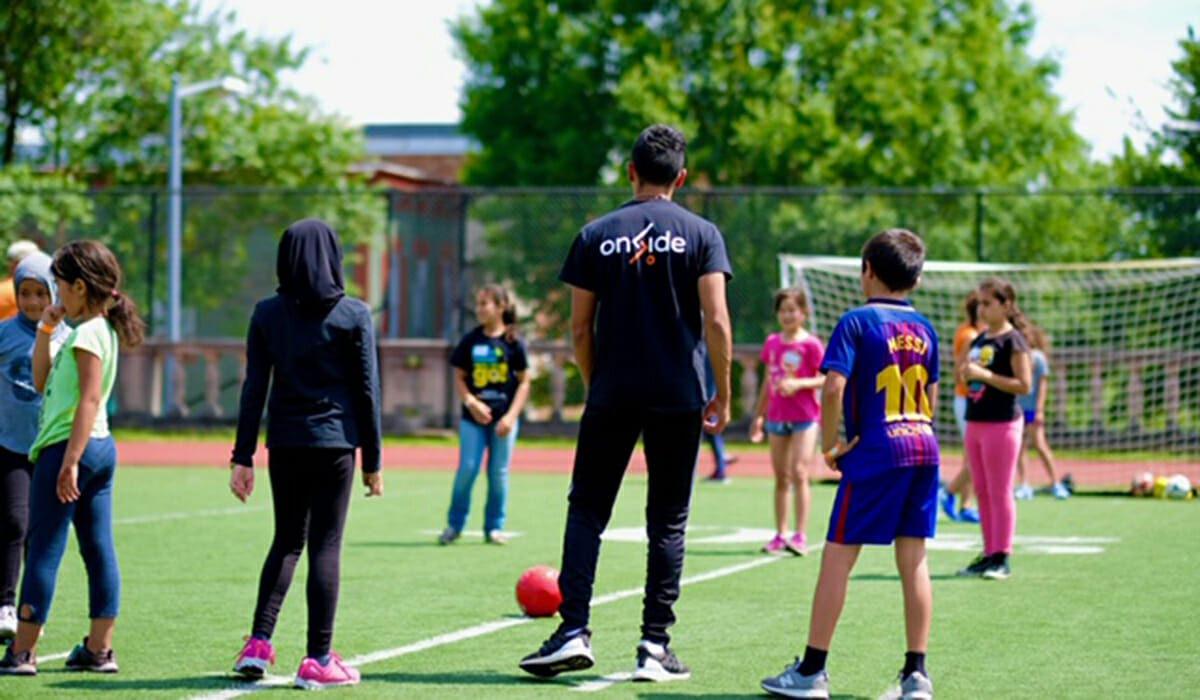 "We worked with a kid from Afghanistan who did not look anyone in the eye on the first day. He was very, very reserved and quiet. We really got him into the group through soccer and he felt more and more involved, first calling for the ball, moving towards the goal then getting high fives from everyone. It was really beautiful to see as he felt more comfortable in his skin. By the end of week, watching him grow out of his shell, he'd made a handful of friends. He was laughing, jumping and probably the best player on the field. He was having a phenomenal time."
Folding refugees into the fabric of America has never been more important, says Zayd, who as a first-generation American, points to the drive and grit that immigrants bring to the U.S.
"We're always stronger together. (Immigrants) are critical towards growth as a country. My uncle has told me: 'There are things you don't know, you don't know. That's where failure resides'. That's why you need a diverse team and diverse group of people who have been able to experience things. We need something to bring us all together so we can have diversity of opinion and perspective to look at problems in a different way. OnSide is an example of why it's necessary to move forward, stronger, together."
Do you want to make a difference in your community like Zayd Ali? Find local volunteer opportunities.
Share this post