Man Faithfully Feeds Cincinnati's Homeless Every Week
Meet Daily Point of Light Award honoree Greg Nicoletti. Read his story and nominate an outstanding volunteer or family as a Daily Point of Light.
Every Monday for the past six years, Greg Nicoletti and his volunteers have driven his truck to downtown Cincinnati in order to provide for the city's homeless. Each week, Greg's nonprofit Kingdom Warriors provides up to 420 meals and hands out whatever the homeless would need to survive on the streets, from clothes and shoes to sleeping bags and first aid kits. The organization so far has served over 74,000 hot meals, given hundreds of haircuts and distributed multiple truckloads of clothing.
Greg described these Monday nights as almost like a big party, with hundreds of people milling around and interacting with one another. After setting up, he himself likes to walk around to meet his guests and ask them how he can help them get off the streets. The goal of Kingdom Warriors is to not only provide a weekly meal, but to intervene in the lives of Cincinnati's homeless in order to get them back to supporting themselves.
Describe what Kingdom Warriors does.
Kingdom Warriors is a nonprofit organization that started about six and a half years ago. We feed the homeless, clothe them and cut their hair. … We serve downtown on the streets. We cook and we take our urban survival truck that has shoes, boots, coats, tents, sleeping bags, toiletries, hygiene, first aid — anything you could need to survive on the streets. We hand that all out free. We cook up to 420 meals for people. They can come through our food line as many times as they like. If people are hungry, we want them to leave filled. We also have a taco line in addition to our food line. We have sometimes eight or nine different types of dessert. We have seasonal beverages, depending on if it's hot or cold out.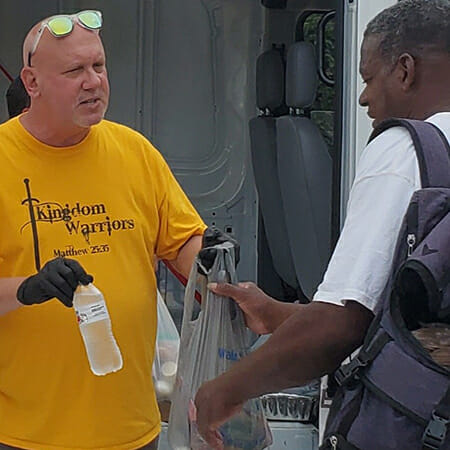 What inspired you to start this organization?
I had a dream and I kind of thought it was a strange thing, and then I had it again. I tried to ignore it, and then when I had it the third time, I thought, "Hmm, maybe someone is trying to tell me something." It was that we started a facility where we were helping people in need. We were also feeding people on the street. We had a laundry facility, a shower house, a food pantry, and a resource desk where people could find links for housing and things like that.
What drives you to keep coming back every Monday?
We have so many stories that we can tell about our guests. Some really sad things and some really good things. It's just wonderful to see peoples' lives change, to give people a little bit of hope. While the world is as crazy as it is, we like to be just that little bit of light.
Are there any future partnerships, programs, or events that you are excited about?
We've been serving faithfully through the COVID pandemic with the non-touch dinner that we hand out, but as of July 6, we're going back full force and we will have our complete caravan down there. We invite people to come down and join us. We also do other events. We cook for churches from time to time. We do an event for foster and orphan kids in the spring called 'Hooked on Life' where we teach kids to fish and we cook a big meal for them. People should stay tuned to our website and follow us on Facebook where we list all the upcoming events that we're working on.
Do you have any plans or goals for the future of Kingdom Warriors?
Absolutely. We started out at my house in my garage, and we've grown so large that we're now having to rent a big space in a local shopping center for our clothing distribution center. We're presently supplying six different ministries with clothing. We hope to some day have the money to buy a big warehouse where we can house a place to get a meal. We would like to have a laundry facility for people to come in by referral to do their laundry. We would like to have barbering and hair stylist services for people who can't afford to do that for their kids. We like to help people before they spiral completely down and their families end up in the system and their kids end up in foster care.
What's been the most rewarding part of your work?
The most rewarding part of our work, I would have to say aside from the obvious things of helping people and trying to make a tangible difference in peoples' lives, is that we're teaching people and churches and organizations how to serve others, how to love people unconditionally. It's really neat to watch people change. Their hearts get warmed. They go out to help somebody and they end up being the ones being blessed, so that's probably the biggest wonderful byproduct of what we do.
What have you learned through your experiences as a volunteer?
I hate to sound cliche, but I've learned that anybody can get down on their luck. Anybody can make a bad choice. I've learned that we're all equal. That homelessness can happen to anyone. I've learned that we also deserve a second, third, fourth, fifth chance, and that all lives matter.
What do you want people to learn from your story?
I believe that anybody can make a difference. I hear people say, "You should do this, you should do that, oh you know it would be nice if someone did this," or people have problems with the way people do things. Well, I don't like to be a part of the problem, I like to be a part of the solution. If people just put that effort toward making a difference, they can be a big part of the solution.
Do you want to make a difference in your community like Greg? Find local volunteer opportunities.
Share this post